Emmy Awards a 'toothless' NBC self-promotion onslaught peppered with #MeToo cracks, critics say
Despite Monday night's Emmy telecast being packed to the rafters with Peacock Network promos, there was still room for a handful of jokes regarding the crackdown on sexual assault in show business, some of which touched on the network's own misconduct woes.
NBC's "Saturday Night Live" stars Colin Jost and Michael Che co-hosted the event and their opening monologue poked fun at #MeToo despite NBC News Chairman Andy Lack and his top deputy, Noah Oppenheim, coming under scrutiny for the way they've handled the historical movement.
"It is an honor to be here sharing this night with the many, many talented and creative people in Hollywood who haven't been caught yet," Che said before Jost noted that audience members were allowed to drink in their seats this year.
"Yeah, because the one thing Hollywood needs right now is people losing their inhibitions at a work function," he joked.
Things got particularly awkward when Jost made a crack about former NBC News reporter Ronan Farrow, who has been a star of the #MeToo movement and recently revealed sexual misconduct allegations against now-former CBS honcho Les Moonves.
"Netflix, of course, has the most nominations tonight. And, if you're a network executive, that's the scariest thing you could possibly hear except maybe, 'Sir, Ronan Farrow is on line one,'" Jost said to a loud applause.
It's safe to assume Lack and Oppenheim weren't laughing. The embattled duo famously refused to air Farrow's reporting on Harvey Weinstein – claiming it wasn't fit for air. But then Farrow took his work to the prestigious New Yorker and ultimately won the Pulitzer Prize and helped launch the #MeToo movement with the outing of Weinstein.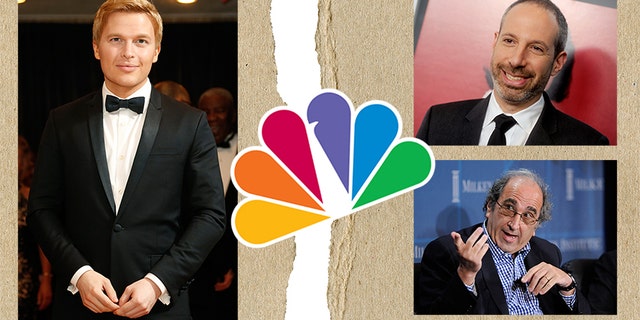 While Che and Jost made a few wisecracks related to the #MeToo movement, there was no serious mention of the crackdown on sexual harassment in the industry. The women who have come forward were not honored whatsoever, as they have been in previous award shows. New York Post pop culture guru Maureen Callahan went so far as to call NBC's show "tone deaf" and in a scathing review.
"The first Emmy Awards ceremony of the #MeToo era was remarkable in one regard: It was utterly toothless," Callahan wrote. "The entire plague of sexual abuse in Hollywood was almost completely ignored."
The high-powered Lack recently released a 10-page memo addressing allegations by a former NBC News producer Rich McHugh -- who was working with Farrow on the Weinstein probe -- that they were ordered to kill the report following directions from "the very highest levels at NBC."
Farrow, McHugh, a former Weinstein Company employee and Weinstein accuser Emily Nestor all have condemned Lack's memo publicly, insinuating that the disgraced Hollywood heavyweight would have been exposed as a sexual predator much sooner if it weren't for NBC.
Linda Vester, a former NBC correspondent who has accused anchor Tom Brokaw of sexual harassment, recently called on the network to conduct an independent investigation of misconduct in the news division. She told Fox News that Colin Jost and Michael Che "may have been joking about TV executives fearing Ronan Farrow," but she feels the reality is quite serious.
"Farrow is leading the journalistic charge to break the wall of silence certain networks, including NBC, have kept around their sex scandals. Where Ronan has led, other reporters are following, and it's going to be a painful reckoning," Vester said.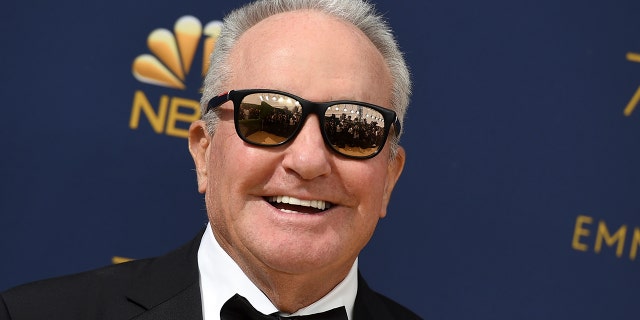 Farrow has said he will tell his side of the Weinstein story in an upcoming book, "Catch and Kill," which is expected to place blame on top NBC executives including Lack and Oppenheim. NBC also made a batch of negative #MeToo-era headlines when Lack refused to allow an outside counsel to investigate who knew about former "Today" star Matt Lauer's sexual wrongdoings.
Instead of enlisting a white-shoe law firm – which has of late been de rigueur for other news organizations dealing with sex harassment – NBC allowed General Counsel Kim Harris to conduct the review. Harris' internal review eventually declared that NBC management was completely oblivious to Lauer's pervy behavior. The results of the NBC review were mocked by media watchdogs and NBC employees alike, while former NBC News star Ann Curry declared she did not participate despite expressing publicly to the Washington Post that she had complained to senior NBC News executives about Lauer's behavior.
Rumors have been swirling around the media industry for weeks that The Daily Beast is close to dropping a bombshell report that will detail additional wrongdoings at NBC.
While NBC's handling of sexual harassment issues during the #MeToo movement has been questioned, the network clearly excels at self-promotion. The entire broadcast was packed with past and present "SNL" personalities and a promo for upcoming NBC drama "New Amsterdam" ran during the closing credits.
Vanity Fair even published a story headlined, "How Lorne Michaels Turned the Emmys into a Commercial for 'SNL," which pointed out that Michaels – the "SNL" creator – produced the ceremony.
"The night ended up being one long commercial for the show," Vanity Fair's Joanna Robinson wrote. "Throughout the night, 'SNL' alums and current cast members represented an unusually high percentage of Emmy presenters."