'Duck Dynasty's Miss Kay: I had a child out of wedlock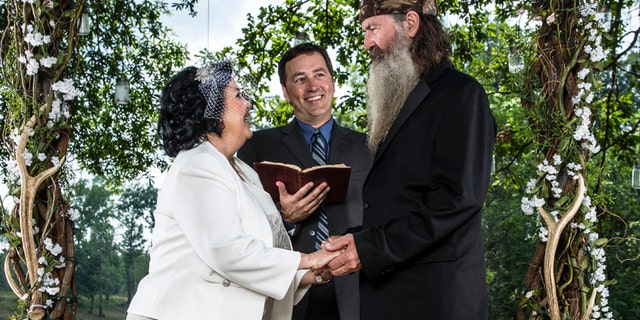 The Robertsons are all about showcasing their family antics on TV, but even Louisiana's most famous family has its secrets. Miss Kay proved that when she made a shocking admission to Us Weekly, revealing she had a child out of wedlock.
The "Duck Dynasty" matriarch admitted that she wasn't legally married to Phil at the time of their first child, beardless brother Alan's birth.
"Yeah, I would be the B [bastard] in the family," Alan told the magazine.
Phil and Miss Kay were married in church when she was 16 on March 22, 1964. "I made a vow to God and to [Phil]," she said.
PHOTOS: See the Duck Dynasty stars before they were famous!
But it wasn't until April 11, 1968 after Alan was born that they put it in writing.
"It wasn't legal, that's the truth," she admitted. "But I want to tell you something," she adds. "My heart and my vow to God was true from the first day."
Despite their tough family secret, Phil and Miss Kay have made it through nearly 50 years of marriage.
The parents of four boys renewed their vows and had a "proper" wedding ceremony on an episode of "Duck Dynasty."
"I will love you forever," Miss Kay told her husband as son Alan performed the ceremony during the premiere episode of season four.
Catch the Robertsons on the sixth season of "Duck Dynasty" on A&E.