Doris Day's grandson says her manager blocked him from seeing her
NEWYou can now listen to Fox News articles!
Doris Day's grandson spoke out after the Hollywood icon's death, alleging that her longtime manager barred her from seeing him.
In a lengthy, heart-wrenching Facebook post, Ryan Melcher — Day's grandson from her only son, Terry Melcher — revealed he wasn't in contact with Day for years due to her manager Bob Bashara's alleged interference.
"I received the news of my grandmother's passing like many of you — I awoke and read the news in a social media feed Monday morning," Ryan wrote
DORIS DAY REVEALED WHY SHE LEFT HOLLYWOOD
"Sadly, due to a divorce that I was thrown into the middle of while still an underaged child, I have not been allowed to see my grandmother for quite some time. When I was invited by Doris to dinner a few years ago after my father's untimely death in November 2004 (melanoma), her new business manager, a former fan, intervened and asked me to meet him at the family-owned Cypress Inn here in Carmel, California," he continued
PHOTOS: DORIS DAY'S LIFE IN PICTURES
Ryan says that Bashara asked him why he wanted to see Day, to which he says he responded simply that she was his grandmother — and says the manager told him, "I'm afraid you aren't going to be able to see your grandmother." Ryan alleged that Bashara cited Terry's divorce from Ryan's mother, Jacqueline Carlin, for why he was barred from seeing Day.
DORIS DAY'S CAREER AND LIFE WERE MUCH MORE THAN JUST 'QUE SERA, SERA'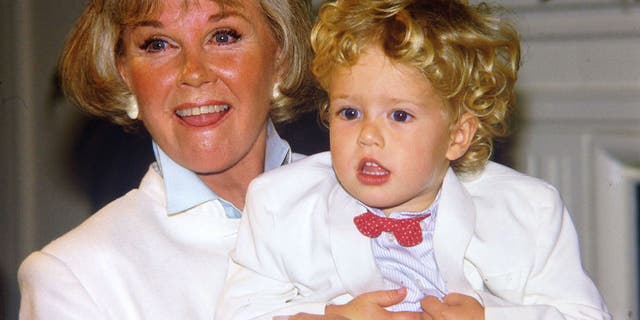 DORIS DAY OPENS UP ABOUT FRIENDSHIP WITH ROCK HUDSON
"Looking back, I should have said more; should have drove [sic] to her home and not let a stranger come between us, but unfortunately the tall fences and 24-hour guard under her new business manager's direction prevented me taking a stand and reconnecting with my family," Ryan alleged. "She had been so happy to talk to me and we were both excited for our upcoming dinner together just a week before, and this man was clearly manipulating the situation."
DORIS DAY DEVOTED TO SAVING ANIMALS AND MAKING MUSIC
The dinner never happened, he said, and he was cut off completely from communicating with Day. Ryan accused Bashara of firing Day's Foundation board members and hired his family in their stead.
Bashara declined Fox News' requests for comment, but Charley Cullen Walters, who handled Day's publicity, told People, "We made an attempt to reach out to Ryan twice. For the 35th anniversary of the DDAF Foundation and her 90th birthday party [in 2014], and didn't get a response. I always respected it as there was a statement on his website that said he did not want to be contacted about celebrity or Hollywood."
CLICK HERE TO GET THE FOX NEWS APP
He added, "When asked about family with media, Doris would decline to answer so I never pushed it. I always hoped for a reunion between them."
Day passed away on Monday. She was 97.