DogTV provides daily original programming for Rex, Fido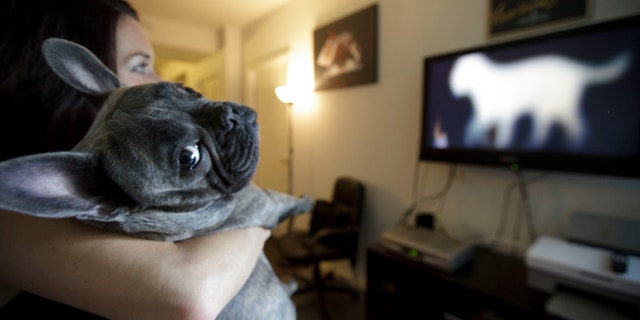 NEWYou can now listen to Fox News articles!
Filmmakers are calling DogTV a new breed of television -- an eight-hour block of on-demand cable TV programming designed to keep your dog relaxed, stimulated and entertained while you are at work.
To get the right footage, cameramen got on their knees and shot low and long. "I shot from the point of view of the dog," said Gilad Neumann, chief executive officer of DogTV.
In production, they had to mute colors, alter sound and add music specially written for dogs.
There will be no commercials, no ratings and no reruns, although some might argue that watching a slug crawl is hardly exciting new programming.
One million subscribers with two cable companies have access to DogTV in San Diego. It is doing so well that parent company PTV Media plans to offer it nationally in the next several months, Neumann said.
[pullquote]
It will cost about $4.99 a month, Neumann said. If you figure more than 46 million U.S. households have dogs (according to the American Pet Products Association) and 97 percent of U.S. homes have televisions, the future looks promising.
Bleu, a year-old French bulldog, has been watching for a month and snorts and grunts his approval, owner Mary Catania of San Diego said. He used to perk up when "Family Guy" came on, Catania said, but he seems more intrigued by DogTV.
"I always feel guilty leaving him alone all day when I'm at work," Catania said. "He's like my kid. I don't have any children so I really treat him like my child. Anything that makes him happy makes me happy."
For years, pet owners have been leaving a television or radio on when they go out so their pets have company, said Dr. Nick Dodman, director of the Animal Behavior Clinic in Department of Clinical Sciences at Cummings School of Veterinary Medicine at Tufts University in Massachusetts.
But Dodman said that according to research on the canine brain, with analog television, dogs could only see a flickering screen. New technologies like digital TV, high-definition cameras, and enhanced production have changed the way dogs perceive the images, while big screens allow them to see from anywhere in a room, Neumann said.
Do dogs really understand what they're watching? Dodman said research is ongoing, but it appears that dogs not only recognize other dogs on TV, they may even respond differently to their own breed.
They definitely recognize sounds, though, whether it's barking or sirens, and audio on DogTV has been tailored accordingly. Because high frequency sounds can be very irritating to dogs, they've been removed. And music is written and tailored for their hearing, though it sounds like elevator music to humans.
What you won't find on DogTV are the sounds that blare on regular TV: no gunshots, no explosions, no heavy metal music, Neumann said.
Dogs can see blue and yellow, but not red or green, Neumann said, so colors are altered for DogTV too.
Based on dog sleeping pattern studies, programmers alternate footage and soundtracks designed for stimulation, relaxation and exposure throughout the eight hours.