Does Hollywood Have a Double Standard When it Comes to Celeb Misbehavior?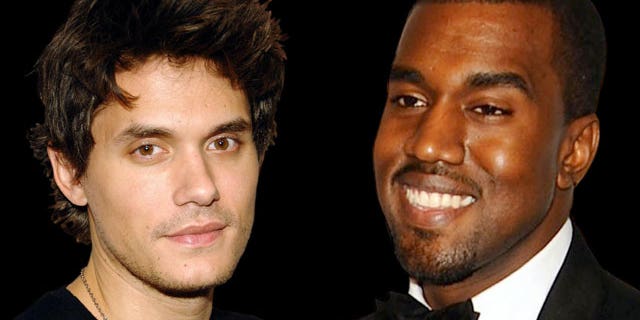 Last week some wondered if John Mayer's career would ever recover after he used the N-word, made racial slurs and divulged intimate details of his sex life with Jessica Simpson to Playboy magazine.
But now, less than a week after the interview was made public, it seems the hype has died down, and the musician is continuing his tour with little public backlash. Aside from a few rappers, it seems no celebrities are interested in expressing their thoughts on Mayer's "white supremacist" and "N-word" interview controversy.
Compare this to last year, when Kanye West dissed Taylor Swift on stage at the MTV VMAs, and was immediately ostracized from the Hollywood community, with Pink, Katy Perry, Kellie Pickler, Kelly Clarkson, Joel Madden and seemingly every celeb with a Twitter account expressing their disgust.
After apologizing publicly several times, West then canceled his planned "Fame Kills" tour with Lady Gaga.
SLIDESHOW: Top 10 Kanye West Haters After MTV VMAs.
Sports/entertainment agent Mike Grippo told Pop Tarts that the media in which the affronts occurred is the main reason public reaction has been so different.
"John's comments were from an adult magazine, as opposed to a national TV show. The audience is different," Grippo said. "Kanye [also] attacked a specific person that happened to be America's sweetheart. Both were terrible but it was a live telecast that created the hype around Kanye."
Image consultant Michael Sands said Mayer's previously playful public image also helped soften the blow. "John Mayer is sophomoric, he is a class clown who has not grown up and will say anything to get a rise out of people. He is the classic case of 'look at me, I am famous and you will print whatever I say.'"
A source close to Mayer told Pop Tarts that the Playboy interview was an accurate reflection of how his mind works.
"John was always so worried the world would think he is a loser, and these witty comments are like a disease because he is so insecure," said the source. "He has often said things that have offended people and was just lucky up until now. His ego became so big he finally just lost it."
Another former pal and colleague of Mayer agreed that the musician's comments were more likely a reflection of narcissism rather than racism.
"He certainly is not a racist and is also not biased against anyone. He just wants to play music and be loved," said Nathan Folks, a Hollywood film/music producer who worked with Mayer. "He is a brilliant guitarist and a phenomenal performer. Maybe he opens his mouth too much or maybe his words were taken out of context. Who knows? Just let him play his music."
But while Hollywood seems to be looking the other way, at least for now, not all are so quick to forgive and forget.
"To resurrect inappropriate use of derogatory racial terms, no matter who does it, is to perform a disservice to all Americans," Dr. Lisbeth Gant-Britton, author of "Holt African American History," told Pop Tarts. "To trivialize racial, ethnic, or gender strife, no matter who makes the remarks, is to deny the historical implications of these struggles."