Demi Lovato Gives Twitter Another Chance. Wilmer Valderrama Too?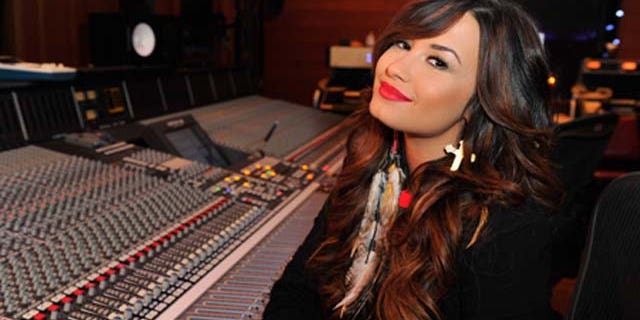 Demi Lovato's Twitter hiatus ends after only a week!
Lovato, 19, was back on the popular social media site dishing on her ex- squeeze Venezuelan actor Wilmer Valderrama.
"To the one and only @WillyVille- I only hope the world can see what an incredible man you are," Lovato posted on her Twitter account on Tuesday.
"Happy Birthday Wilmer, you deserve it."
These friendly messages fueled a firestorm of speculation among gossip sites such as "Zap 2 it," which believe Lovato is either back with the "That 70's Show" actor on the lowdown or had a clean break.
An insider and close friend of Lovato told the NY Daily News that the on-again-off-again couple called it quits "three weeks ago," around the time rumors were going around that Lovato was newly single.
Demi Lovato is One Gorgeous Latina
The friend said the split was a "mutual decision," although rumors are still swirling that the 12-year age gap between the two contributed to the breakup.
"The smartest thing a woman can ever learn is to never need a man," Lovato posted on her Twitter account before going on a Twitter break last week. Since then, it seems like Lovato deleted the comment.
On Saturday, the "Give Your Heart a Break" singer said she was taking a "Twitter break" to avoid getting herself in more scandals.
"I just get myself in trouble," she posted. "It's for the best."
According to entertainment site E! Online.com, Lovato was back on her Twitter game after rumors were swirling—and then quickly dismissed—that the former Disney starlet would check into a Malibu center for substance abuse related issues.
Despite the allegations, Lovato seems to be doing just fine and is ready to take on South America.
Don't believe the hype," Lovato continued on her Twitter account. "All is well! SO stoked to head to Chile in a few days!!!"
Selena Gomez is a Fashionista!
The "Skyscraper" singer also revealed that she is Seventeen magazine's new 'It' girl.
"Demi, we are so proud to have you on our cover!" Seventeen magazine tweeted from their account, only to have Lovato re-tweet the publication.
You can reach Kacy Capobres at: KacyJayne@gmail.com or via Twitter: @KacyJayne
Follow us on twitter.com/foxnewslatino
Like us at facebook.com/foxnewslatino