Def Leppard frontman Joe Elliott on why 'Pour Some Sugar on Me' is a strip club staple
Def Leppard's Joe Elliott recently announced he and his bandmates are co-headlining a U.S. tour with Journey that is set to kick off on May 21. In addition, Def Leppard's full catalog is now officially available for streaming for the first time. But the 58-year-old's work for the year is far from over.
Fox News spoke to Elliott about the obsession with their 1987 hit "Pour Some Sugar on Me" and inspiring country music artists.
Fox News: How does it feel to get back on the road?
Joe Elliott: Well, it doesn't seem like it's been a very long time really. We actually finished the last U.S. tour in June. And even after that, we did three weeks in South America. So we've only been off the road a couple of months, and now we're already announcing a tour for May. It's just business as usual because we pretty much tour every year… But this one is going to be bigger and better because it's 58 shows and it may stretch more than that.
Fox News: What keeps you going as an artist?
Elliott: We like playing live. It's why we formed the band in the first place. Whenever we get together, we just get inspired to play on stage. And you want to perform for an audience, not a studio. And everyone just wants to express their creativity on the stage. It still feels just as exciting as it first did back then.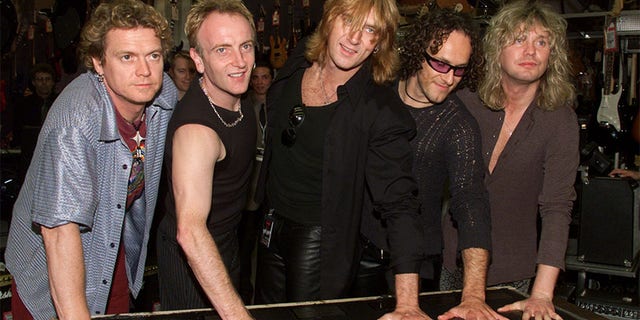 Fox News: Did you ever think "Pour Some Sugar on Me" would be so iconic after all this time?
Elliott: You know, when we recorded the song for the album, we knew it was a good song. And when we put that song together we actually had already finished the album. It was the last thing we did. It was written almost by accident. It really came about because Mutt [Lange] was messing around with the chorus during a break in a recording session.
...We were done writing. But he still insisted that we do this song… It became the most important song on the album, if not our career… Think of the most iconic Beatles song you can think of. That's what it became for us. It became this perfect song. We just had a feeling when we released it that it was going to be an important song. I don't know if we ever thought it would last 30 years… I don't really see it going away. It seems to get played more now than even five years ago… It has a life of its own.
Fox News: It's been said the song is popular in strip clubs.
Elliott: Well, even when we wrote it, Mutt said we had to make this song sexy. It had to be danceable. And so, it was almost designed to be that way anyway. It's a very slow-paced song for rock. And I have no problems with that, actually... That's how it became popular. It started off in some of these dance clubs and it just spread across the country. And it's been doing that ever since
Fox News: [Drummer] Rick Allen said Def Leppard doesn't need to become part of the Rock & Roll Hall of Fame. How do you feel about it?
Elliott: He's absolutely right. I couldn't agree more. My opinion on the whole thing about the Rock & Roll Hall of Fame will soften somewhat when it becomes a fan-driven choice, as opposed to a committee who decides whether you're cool enough to be a part of their cliquey club. It's not going to make our careers any bigger or any better to be in there.
It may be an honor, but it's only an honor if it's fan-driven. To be chosen by someone who I don't even know who they are just to become a member of a club like that? It doesn't really have any meaning to me. So until they change the rules or make it more fan-based, it's not going to make or break anything we do. That's how I feel about the Rock & Roll Hall of Fame. Too many great bands have not been put in or it took 10-12 nominations just to be accepted.
Fox News: Several country artists have found inspiration from Def Leppard. Does that surprise you?
Elliott: Not really because what they are basically saying is that the harmonies we do on our records – that's what separates us from heavy metal bands. The fact that we do these big vocal harmonies. And Mutt Lange, who was very instrumental or at least part of the decision-making in these harmonies, was a huge fan of country. And he could change the melody just by one or two notes and all of a sudden it had a bit of a country twang to it, even though we were doing a rock song.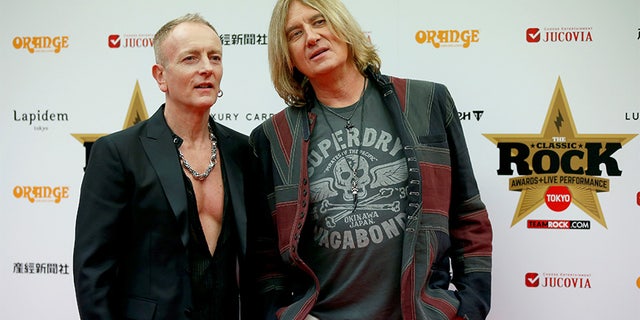 And country artists certainly pick up on that, much more so than we would. They hear it instantly and go, "That's a country harmony." We were just doing it in the confines of rock 'n' roll… So I can see why country artists would be attracted to it. You can talk to artists like Taylor Swift and Tim McGraw, and they're big fans. We've either worked with them in the past or they come to see us on a regular basis.
Fox News: When you're not on the road, how do you spend your free time?
Elliott: I don't really have that much because I'm a father to two children, and I've just basically become a family guy. Luckily, my studio is in my house, so I get to work from home… And I'm going to be working on the next Down 'N' Outz album, my side band, before I start preparing for this tour in May. I just spend my free time with my family because I won't be able to do that when the tour starts.