'Deadliest Catch' recap: Time Bandit captain Johnathan Hillstrand goes out in a blaze of glory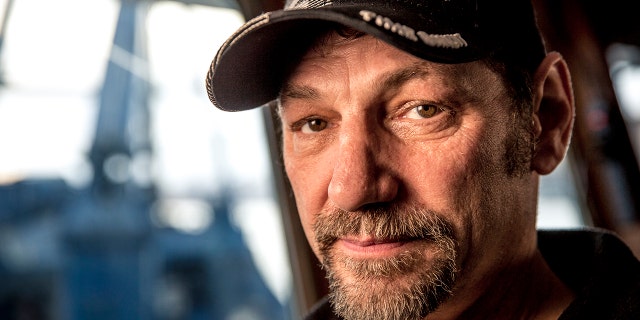 Rough and ready skipper Johnathan Hillstrand ended his 37-year fishing career with teary eyes and bountiful crab hauls on Tuesday night's episode of "Deadliest Catch."

The veteran captain of the Time Bandit ship was determined to retire in a blaze of glory after years at sea.

On the Discovery Channel show, Hillstrand hoped for a massive catch to end his career.

And his fellow fishermen and "Deadliest Catch" co-stars teased Hillstrand about cashing in his crab.

"I'll get you a rocking chair, OK?" Keith Colburn told Hillstrand over the phone.

Hillstrand's deck was covered in ice so he decided to help the crew and operated the crane to knock it off the boat.

"37 years of pain and suffering," Hillstrand joked about his job.

On the Wizard, his pal Colburn was in the eye of the storm and complained, "It's getting harder and harder to make a buck out here."

And on the Time Bandit, Hillstrand said, "I can't wait to get home," and hoped for a last monster haul to send him into retirement.

Hillstrand consulted an Alaska Fish and Game survey which recommended a certain area to fish.

But the first few crab pots were awful, disappointing Hillstrand.

The skipper set fire to the survey in the wheelhouse and threw it out the window.

"The survey can f--k itself," Hillstrand said as a deck hand burned the survey, too.

Hillstrand decided to follow his instincts, sailing to a spot he'd found fruitful before and said that it was his "last chance for greatness" going south into a Bering Sea squall.

Colburn's crew on the Wizard was facing tough conditions and his crew man Crosby slid dangerously across the deck.

But Colburn finished out his winter season strong, and the Wizard wound up making $1.7 million dollars.

That meant $54,000 for each of Colburn's crew men.

Colburn said it was harder than it used to be to make a living but "this boat will be fishing next year."

That wasn't going to be true for the Time Bandit, as Hillstrand had decided it was time to say "sea" you later.

"You know, when you know," Hillstrand told his buddy Sig Hansen over the phone.

Northwestern captain Hansen said it was "unreal" to think that Hillstrand was retiring.

While Hillstrand got teary-eyed after hanging up with his longtime friend, Hansen remarked to the cameras about leaving fishing himself, "I don't know if I can do it right now."

Hillstrand said, "I don't need this stress [and ]…pressure."

But he vowed to go "out on top, like a champion, hopefully"—and then spend time with his granddkids.
In his 37 years, the feisty fisherman had pulled in more than 22 million pounds of crab.

And on his last journey, Hillstrand scored again, as his deck hands showed him pots stoked with crab.

He called it "a pretty proud moment,: and when the last pot came in, the captain got teary-eyed, saying, "I don't believe this is real."

The deck hands did a break dance in Hillstrand's honor and shouted, "We love you, boss!"

"We're done," Hillstrand said as the final pot came up.

The grateful crew men paid him tribute –and each worker wound up earning $65,000 for the season.

Colburn phoned him, and Hillstrand told him he was satisfied with his decision to retire: "I have a peaceful feeling about it. I just know it's time to go."

The other captains in the "Deadliest Catch" fleet gave him an enthusiastic send off, setting off flares as Hillstrand made the trip back to dock.

"Hillstrand out," the retiring skipper announced in a poignant end to the episode.