David Letterman Admits Affairs at Center of Extortion Arrest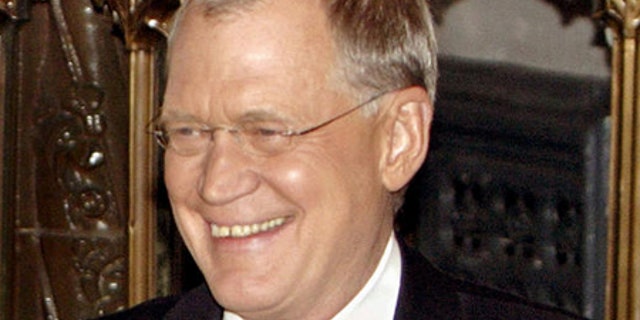 NEWYou can now listen to Fox News articles!
Late-night host David Letterman acknowledged on Thursday's show that he had sexual relationships with female employees and that someone tried to extort $2 million from him over the affairs. CBS says an employee has been charged with attempted grand larceny in the case.
Letterman told his story during a taping of his show, mixing in jokes to an audience that seemed confused about what it was. He called it a "bizarre experience" that left him feeling disturbed and menaced.
Click here for a clip of Letterman addressing the affairs, extortion.
In a release from the show's production company, Letterman said he referred the matter to the Manhattan district attorney's office. An investigation ended in an arrest Thursday after Letterman issued a phony $2 million check to keep the matter silent.
The network said late Thursday the person who was arrested works on the true-crime show "48 Hours" and has been suspended. A person with knowledge of the investigation said the suspect is Robert J. Halderman. The person spoke on condition of anonymity because authorities have not released the suspect's name.
A "48 Hours" producer named Joe Halderman was part of a team nominated for an Emmy for outstanding continuing coverage of a news story in a news magazine in 2008.
Two numbers listed for Halderman were disconnected, and a message left at a third number was not immediately returned Thursday.
The late-night comic began his show by walking onstage and briefly leaning on a pillar with his back to the audience. Then he gave a monologue with jokes against frequent foils like Dick Cheney and Sarah Palin. He told his personal story after sitting behind his desk.
He said he was glad the audience was in a pleasant mood "because I have a little story that I'd like to tell you and the home viewers as well."
Three weeks ago, Letterman said he got in his car early in the morning and found a package with a letter saying "I know that you do some terrible, terrible things and that I can prove you do some terrible things." He acknowledged the letter contained proof.
Letterman said he called his lawyer to set up a meeting with the man, who threatened to write a screenplay and a book about Letterman unless he was given money. There were two subsequent meetings with the man, the last one resulting in the check being delivered.
He told the audience that he had to testify before a grand jury on Thursday.
"I was worried for myself, I was worried for my family," he said. "I felt menaced by this, and I had to tell them all of the creepy things that I had done."
"The creepy stuff was that I have had sex with women who work for me on this show," he said. "My response to that is yes, I have. Would it be embarrassing if it were made public? Yes, it would, especially for the women."
Whether they wanted to make the relationships public was up to them, he said.
"It's been a very bizarre experience," he said. "I felt like I needed to protect these people. I need to protect my family. I need to protect myself. Hope to protect my job."
Letterman mixed in jokes while telling the story, keeping his audience off guard.
"I know what you're saying," he said. "I'll be darned, Dave had sex."
It was not immediately clear when the relationships took place; Letterman and longtime girlfriend Regina Lasko married in March. The couple began dating in 1986 and have a son, Harry, born in November 2003.
CBS spokesman Chris Ender said Thursday that "Letterman's comments on the broadcast tonight speak for themselves."
It's the second set of embarrassing headlines for Letterman in four months. In June, he apologized to Sarah Palin for making a crude joke about the former Republican vice presidential candidate's 14-year-old daughter. Although there was a small "fire Letterman" demonstration outside of his studio later, CBS stood by its late-night star.
After nearly 15 years in second place to NBC's Jay Leno in the ratings, Letterman took over the top spot this summer after Conan O'Brien became "Tonight" show host.
Letterman's CBS "Late Show" has been on the air since 1993 and before that, he had a late-night show on NBC from 1982 to 1993.
Alicia Maxey Greene, a spokeswoman for the Manhattan District Attorney's office, declined to comment.
Letterman was also the victim of a 2005 plot by a former painter on his Montana ranch to kidnap his nanny and son for a $5 million ransom. The former painter, Kelly A. Frank, briefly escaped from prison in 2007 before being recaptured.
Another alleged extortion scandal surrounding a public figure, Louisville men's basketball coach Rick Pitino, similarly forced him this summer to acknowledge an affair.