Critics Blast PETA Ad Showing Nude Joanna Krupa Holding Crucifix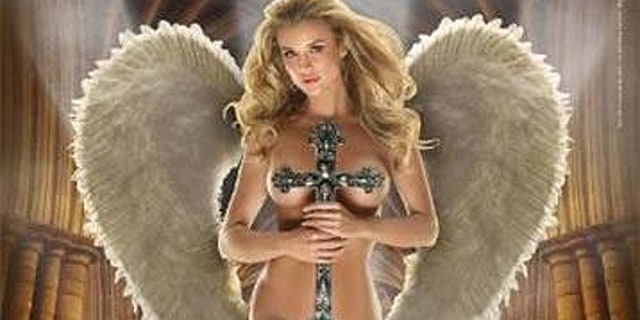 NEWYou can now listen to Fox News articles!
A new PETA advertisement featuring model Joanna Krupa wearing nothing but a crucifix and a seductive smile is "totally inappropriate" and exploitative of Christian symbols, critics say.
Krupa, a Playboy cover girl and a "Dancing With the Stars" regular, is seen topless and bottomless in the latest spot by the People for the Ethical Treatment of Animals, which urges people to adopt pets from rescue shelters instead of buying them from puppy mills.
The Polish-born beauty appears in the ad with angel wings behind her and a digital halo over her head. Her private parts are covered -- barely -- by a large, well-placed metallic crucifix.
SLIDESHOW: Krupa not first star to bare all in provocative PETA campaign.
"It's totally inappropriate," said Deal Hudson, publisher of InsideCatholic.com, an online magazine. "It's another instance of disrespect toward Christianity and another example of the kind of abuse that would never occur with any other major religion, because the outcry would be so immediate and so loud that the people behind it would immediately retreat."
Krupa defended nudity earlier this year, claiming the human body is a work of art.
"I think worrying about going topless in a photo shoot or film is really ridiculous," she told FoxNews.com's Pop Tarts column in an exclusive interview. "And the fact is, Pope John Paul said, since we were born naked, it is art, and it's just showing a beautiful body that God created."
PETA has a history of using "shock" ads featuring nude celebrities to promote animal rights. According to the organization, up to 8 million cats and dogs are turned over to animal shelters annually, and half of them are euthanized due to a lack of suitable owners. Animals purchased from pet stores, meanwhile, are often from inhumane puppy mills, PETA claims.
Krupa, who bared her body in 2007 for PETA's anti-fur campaign, led a protest on Tuesday outside Barkworks, a Los Angeles pet store that PETA says "irresponsibly" sells puppies while hundreds of dogs remain in city animal shelters.
Her appearance further enraged PETA's critics.
"The fact is that cats and dogs are a lot safer in pet stores than they are in the hands of PETA employees," Catholic League President Bill Donohue said in a statement. "Moreover, pet stores don't rip off Christian iconography and engage in cheap irreligious claims."
"PETA is a fraud," Donohue continued. "It also has a long and disgraceful record of exploiting Christian and Jewish themes to hawk its ugly services. Those who support this organization sorely need a reality check. They also need a course in Ethics 101."
Krupa issued a statement responding to the Catholic League, saying: "As a practicing Catholic, I am shocked that the Catholic League is speaking out against my PETA ads. I'm doing what the Catholic Church should be doing, working to stop senseless suffering of animals, the most defenseless of God's creation."
Krupa isn't the only Playboy pin-up to stand up for animals recently. Last week the Barbi Twins expressed their disappointment that President Obama did not choose a pound puppy for the White House.
"My sister and I are extremely disappointed in Obama for not adopting a puppy from the pound," Shane told Pop Tarts. "In addition to saving a dog from getting killed at the pound, it would have been symbolic on all levels to what Obama claimed he was for -- 'change' -- and that he was for the 'underdog,' pun intended!"