Cover Girl Joanna Krupa Says Posing for Playboy Empowering for Women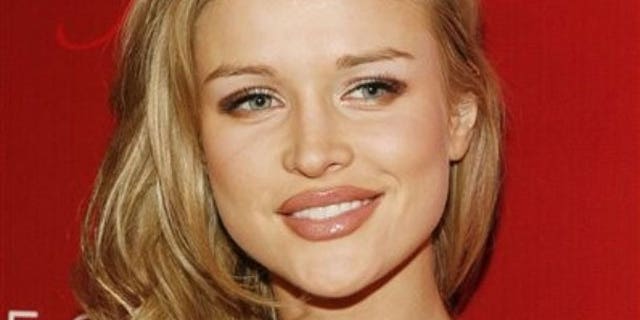 LOS ANGELES – Since its inception some 56 years ago, Playboy Magazine has been subjected to ongoing wrath from feminist groups over what some label a display of fake-breasted, plastic women and Hugh Hefner's twisted personal vision of the ideal female.
However, the magazine's December cover girl, bikini model and "DWTS" star Joanna Krupa, has something to say to those women who view the men's magazine as sexist and demeaning to the female gender.
SLIDESHOW: Click here for photos of Joanna Krupa.
"I think they suffer from lack of knowledge and tunnel vision. How many of those self-important, so-called 'feminists' have been on the set when a celebrity shot a Playboy spread? There you go. What is feminist about discriminating a photo shoot just because it involves female (partial) nudity that happens to give men pleasure? Pathetic," Krupa told Tarts in an exclusive interview.
"There are several great reasons why female celebs line up to shoot Playboy: finally a woman gets paid more than a man for comparable work, she gets to set the rules, gets to be in a real team work with other women, as many key positions at Playboy are in fact held by women!" Krupa adds. "She brings in her creative ideas, gets involved in the photo selection and ends up with something she co-created through and through."
So is it hypocritical that actresses like Kate Winslet and Halle Berry can win Oscars after having performed intense sex scenes, and yet nobody seems to attack them with the anti-feminist tag?
"Our society is used to judging content by its package and label. The word 'Playboy' alone doesn't exactly give most women a warm, fuzzy feeling, yet many of the Playboy photos end up in the most praised photo and art magazines and in critically acclaimed photo exhibitions," Krupa said. "As for movies, over the years violence has become more graphic and bodies more naked even in Academy Award winning films. The excuse that nudity and even full blown sex-scenes are 'artistically required' is laughable, as that would imply that all movies from the old days (that didn't contain love scenes) were less artistic. So it simply comes down to 'sex sells.' Same goes for fashion magazines. You see A-list celebs and models already going topless in European fashion mags like Vogue."
So is America behind the times?
"Every country has its own culture and sensitivities. It is obvious the Europeans are less sensitive to nudity in the media but more sensitive to violence instead, and in America it appears to be the other way around," she added. "I've never heard of children being psychologically scarred by looking at a naked body, but we all know that watching violence has a desensitizing impact on children. Nudity is natural, after all."
But back to Miss Krupa's sexy shoot, shot in London by famed photographer Rankin. It turns out that Hef didn't initially like the modern, artistic style of the pics and wanted a re-shoot.
"I declined to shoot with anyone else. Sure, an experiment always comes with a risk for a magazine. That's why I am so glad that in the end Hef had faith in my shoot and now seems to be all excited about it," she added. "I got to work with one of the most respected photographers in the world. I wanted him to shoot me and Playboy granted me that wish. Secondly, I really don't display more skin than I saw on my last beach trip to St Tropez - and there were plenty of children running around. So, my cover and spread are sexy without being shocking."