'Cosby' star talks gritty new role on 'Sons of Anarchy'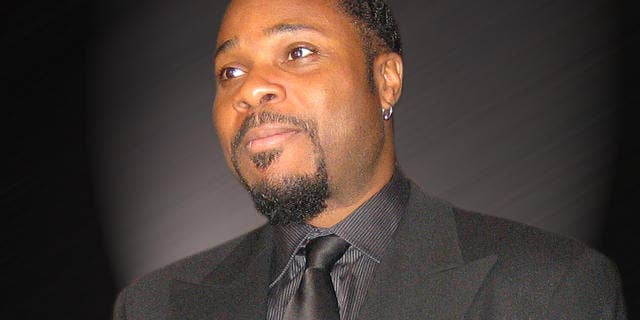 Malcolm Jamal Warner rose to fame playing Theo Huxtable, the only son of comedian Bill Cosby on the wholesome family sitcom "The Cosby Show."
So his latest role as Sticky, the vice president of "The Grim Bastards" motorcycle club on the final season of FX's notoriously violent "Sons of Anarchy," might have some of his fans doing a double take.
Warner told FOX411 he was a fan of the show before he was cast and called the chance to be a part of its final season a "great opportunity." He said his character, who is the vice president of a motorcycle club that is allied with the show's titular "Sons," was initially only supposed to appear in one episode.
However, Warner said his role has grown substantially, and he will appear in at least four episodes, though he was tight-lipped on any details from the upcoming season.
Warner did admit his character would partake in some of the show's trademark violence.
"It's going to be a crazy season," he said.
The former Huxtable said he fit in easily when he began shooting with the notoriously tight-knit cast.
"The cool thing is because they've been doing the show for so long they have a real brotherhood vibe," he said. "They were very welcoming."
Those family vibes are reminiscent of another famous brood he was once a part of, though the similarities end there.
"Apples and oranges," he said with a laugh when asked about the difference between the vibes on set while filming "Sons of Anarchy" and "The Cosby Show."
"One is sitting in a studio with multiple cameras and Bill Cosby-- a real family setting," he said. "The other is a single camera set with a bunch of dudes who ride Harleys. It's night and day, but I fit very well into both."
It's this adaptability that has led to Warner's long career.
"I grew up with a maniacal obsession with not being one of those 'where are they now kids,'" he confessed. "I got into directing early on, directing 'Cosby' episodes. I learned other aspects of the business to make sure I had work during the transition period [from child star to adult actor]."
However, unlike some people in his shoes, he said he holds no bitterness over still being associated with a role he played as a teenager.
"I embrace it," he said. "It goes along with the territory. It's great to be known for a character that everyone loves. People still call Ron Howard Opie [but it] hasn't hurt him."
It's a sentiment shared by several of his old cast members. Warner said he still keeps in touch with most of the "Cosby Show" cast, most notably Keshia Knight Pulliam, Raven Symone and the man he affectionately refers to as "Mr. Cosby."
"We're all pretty cool, we all have a particular bond that is lifelong strong," he said. "We had an experience that no one else has had. Just growing up together having that same shared experience keeps us on it."
So does that mean the new sitcom Bill Cosby is developing could serve as a reunion down the line?
"We talk about the show all the time, but no, I wouldn't be a part of it," Warner said.
It'd be hard for him to find the time these days. He currently starring in a stage adaptation of "Guess Who's Coming to Dinner" in the role made famous by Sidney Poitier.
Warner says fans of the film won't be disappointed with the play, which is being put on by the Huntington Theater Company in Boston.
"In 1967 they had to tread lightly there were studios that wouldn't show film," he said. "Stage gives us a little more room to get emotional reactions they couldn't do in the movie, give them more range. The experience fans of the movie have been having with play, they enjoy being able to see everything handled without child gloves."
The final season of "Sons of Anarchy" premieres Sept. 9 on FX.
WATCH: Charlotte McKinney on posing nude, deleting naked selfies