'Cosby Show' actress speaks out about topless protest, arrest
NEWYou can now listen to Fox News articles!
An actress who appeared on "The Cosby Show" decided to turn up topless at Bill Cosby's sexual assault retrial on Monday to make the disgraced comedian squirm, she told People magazine.
"He's a man who's disempowered women's bodies for decades. It doesn't seem to be recognized," Nicolle Rochelle told the magazine following her arrest for the incident. "The case is being publicized with this narrative of race. He's being painted as the victim. I wanted to emphasize that this is about rape. I wanted to make him uncomfortable and to make people think about women's bodies."
The 39-year-old was tackled by police after she charged at Cosby as he was entering a suburban Philadelphia courthouse on Monday. She was charged with disorderly conduct. At the time of her protest, Rochelle was topless with words written on her body.
TOPLESS WOMAN WHO CHARGED AT BILL COSBY APPPEARED ON HIS SHOW
The actress, who appeared in four episodes of "The Cosby Show," knows her decision to turn up topless caused some confusion.
"People are like 'Why is she naked?' I hope this causes people to engage more," Rochelle told the magazine. "Of course, I have no idea what Bill Cosby was thinking, but I would hope that he stops for a minute and think about his own truth. At the moment, 61 women aren't allowed to testify against him. That's pretty appalling. The very least I could do is lend my body to this cause."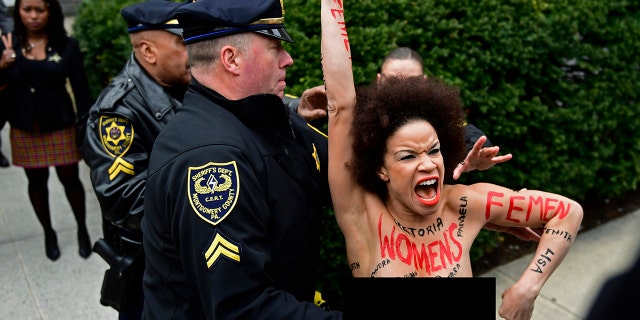 She wrote some of Cosby's accusers' names on her body. Dozens of women have accused the star of drugging them and sexually assaulting them or attempting to.
Rochelle told People she is not a Cosby accuser.
"The protest wasn't about me knowing him, but there's a part of me that feels betrayed because I can understand what the victims were feeling. Like, that could have been me, I could've undergone the abuse as well," she said.
She said her protest was inspired by the group Femen.
"My action today was first and foremost an action led by the group I joined in Europe about a year-and-half ago called Femen," she said in a statement after her arrest. "Femen is an international Women's movement of topless female activists painted with slogans and our mission is protesting the patriarchy and reclaiming our bodies."
Cosby has denied all accusations of non-consensual sex. He currently faces three counts of aggravated indecent assault, each punishable by up to 10 years in prison.
The 80-year-old is charged with drugging and molesting Andrea Constand, a former employee of Temple University's basketball program, at his suburban Philadelphia home in 2004.
Cosby's first trial last spring ended with the jury hopelessly deadlocked. His retrial is expected to last a month.
The Associated Press contributed to this report.