Conor McGregor's alleged attack on bus filled with UFC fighters draped in bad blood
Conor McGregor was charged with three counts of assault Friday after he allegedly attacked a bus filled with UFC fighters after a press conference for the upcoming UFC 223, police told Fox News.
Video obtained by TMZ on Thursday appearing to show McGregor causing chaos in the loading dock at the Barclays Center in Brooklyn may look like aimless rage toward rivals a day after he was stripped of the UFC lightweight title.
However, there appears to be a deeper backstory behind the frenzied attack.
CONOR MCGREGOR CHARGED AFTER ALLEGEDLY ATTACKING BUS FILLED WITH UFC FIGHTERS
McGregor and his team arrived at the arena in an effort to get so-called "retaliation" on Khabib Nurmagomedov, another fighter, and his team after an incident that occurred Tuesday between the two sides, according to MMA Fighting.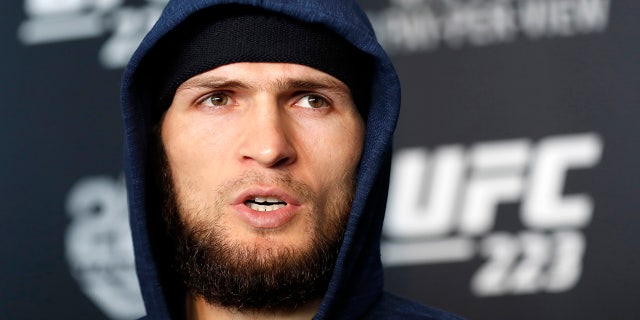 A video appeared to show Nurmagomedov and his entourage getting into it at a hotel with Artem Lobov, one of McGregor's friends and training partner.
The footage allegedly shows Nurmagomedov taking Lobov by the neck and slapping him several times, according to UPROXX.
Nurmagomedov didn't give too many details of the incident.
"I explained to Artem like a small baby, 'Hey, no more talk about me,'" he told MMA Fighting.
McGregor appeared to throw a hand truck at a bus, causing minor injury to at least one person on the bus. At least two fights on the UFC 223 card were scrapped because of the incident.
Michael Chiesa, another fighter, was reportedly hospitalized from injuries caused by the broken window. He wrote on Twitter after the incident that the New York State Athletic Commission pulled him from his fight against Anthony Pettis.
As for Nurmagomedov, he's still set to headline the event against Max Holloway for the UFC lightweight title.
Nurmagomedov told MMA Fighting that he wasn't impressed with what McGregor did and stressed that his full team wasn't even on the bus McGregor attacked. He added that he wasn't injured.
"I am laughing inside," Nurmagomedov told the MMA site. "You broke window? Why? Come inside. You know UFC don't let you come inside. If you real gangster why don't you come inside? This is big history gangster place. Brooklyn. You want to talk to me? Send me location. We have to talk? I am gonna come, no problem."
UFC said in a statement that McGregor and his team weren't welcomed at the event Saturday.
"Lobov has been removed from this weekend's card and individuals involved in the incident are not welcome at tomorrow's ceremonial weigh-in or Saturday's event at Barclays Center," the statement said.
Fox News' Edmund DeMarche, Tyler McCarthy and the Associated Press contributed to this report.