Conor McGregor gives Boston firefighters World Series tickets as a gift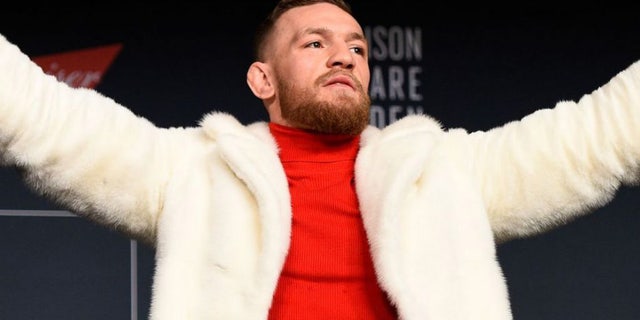 Conor McGregor visited a fire station in Boston — and gave away 10 tickets to the World Series.
"You guys are true, proper heroes," the UFC fighter said when surprised Beantown's Back Bay firehouse. "It's an honor to be here and see this true, proper fire station. We brought gifts — tickets to the World Series. That's [out of] respect for you guys." He arrived at the station riding in a giant delivery truck for his Proper No. Twelve whiskey.
McGregor — who this month lost a controversial fight to Khabib Nurmagomedov — looked in great spirits, as he even slid down a fire pole at the station in a sharp suit and fireman's hat.
A source told Page Six: "Conor brought them 10 tickets to World Series. He was hanging out with the guys, going down fire pole, he signed some bottles of his whiskey." The source exclusively told us the fire chief joked to the Irish athlete of the tickets to see the Red Sox play the Dodgers, "That's great! I have 40 guys here — we'll have to fight for these like you."
Many of the firefighters asked McGregor to FaceTime with their kids, and "He FaceTimed with all of them," the source said.
Proper No. Twelve is donating $5 from every case sold to first responders. McGregor's been on a 10-day tour for the hooch, and a source told us that the brand's sold out six months worth of whiskey in less than a month even leaving distributors dry for now.
It's just the latest in the ongoing celebrity booze bonanza that includes brands fronted by George Clooney, Jay Z, Diddy, Matthew McConaughey and more.
The World Series starts Tuesday.
This article originally appeared in Page Six.