Conor McGregor charged after allegedly attacking bus filled with UFC fighters
Conor McGregor, the mixed martial arts fighter known for his antics, was charged Friday after a video appeared to show him attacking a bus full of UFC fighters arriving for an upcoming event in Brooklyn, New York.
He was filmed as he was escorted from a NYPD Brooklyn precinct into an unmarked vehicle on Friday morning in handcuffs, wearing a long sleeve blue collared shirt and jeans.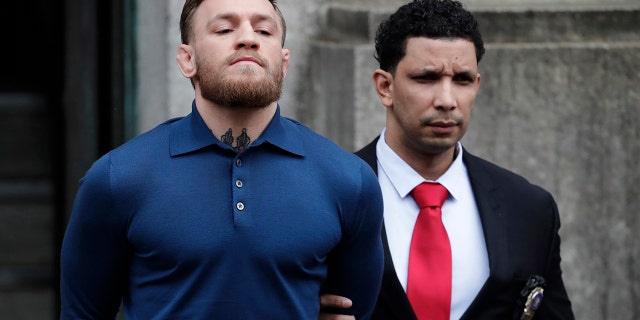 A spokesperson for the NYPD told Fox News McGregor was still in police custody and awaiting arraignment.
"He is being transferred to King's County Court for arraignment," the spokesperson said.

McGregor was charged with three counts of assault and one count of criminal mischief, the New York Police Department told Fox News. He turned himself in Thursday night at a police precinct, accompanied by his lawyer, the New York Post reported.
WARNING: The videos below contain graphic language
TMZ first reported the attack, along with the harrowing video filmed from inside the bus parking area at Brooklyn's Barclays Center.
Video footage shows McGregor with a group of people causing chaos Thursday as they take an elevator to a loading dock at Barclays Center. He is seen tossing trash cans and being prevented from throwing a barricade at a bus during his unannounced appearance in the city.
The UFC said in a statement that McGregor and Artem Lobov entered the area with more than a dozen individuals and vandalized the bus.
"Lobov has been removed from this weekend's card and individuals involved in the incident are not welcome at tomorrow's ceremonial weigh-in or Saturday's event at Barclays Center," the statement said.
The NYPD said McGregor threw a hand truck at a bus, causing a minor injury to an individual on the bus. At least two fights at Saturday's UFC 223 card have been scrapped because of the incident.
"The organization deems today's disruption completely unacceptable and is currently working on the consequences that will follow," UFC said in a statement.
Michael Chiesa, a fighter, was reportedly hospitalized with injuries caused by the broken window.
According to the Washington Post, McGregor took issue with UFC President Dana White saying that an upcoming bout between Max Holloway and Khabib Nurmagomedov will decide the new UFC lightweight championship, with no qualifier in front of the title.
McGregor won the title in 2016, but stepped away from the UFC last year in order to train for his highly publicized boxing match with Floyd Mayweather. It seems that McGregor took issue with the idea of being stripped of his title.
White told TMZ that this is "bigger than us firing him" in reference to McGregor, hinting that the star may be in greater legal trouble for the scuffle.
"I imagine he's going to be sued beyond belief and ... This is a real bad career move for him," White told TMZ.
Reps for White did not immediately respond to Fox News' request for comment.
The Associated Press contributed to this report.