CNN raises eyebrows by signing James Comey crony after misleading New York Times op-ed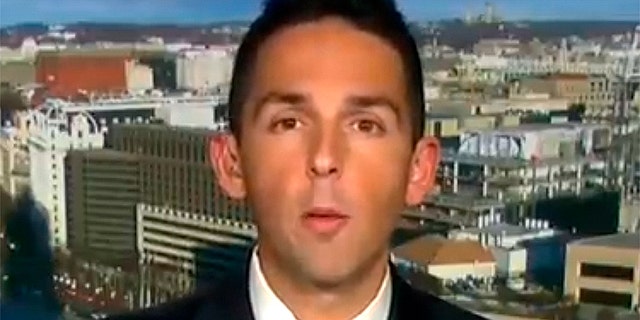 NEWYou can now listen to Fox News articles!
Now-former FBI agent Josh Campbell publicly claimed he was leaving the bureau because of "relentless attacks" on it, but he really had a cushy gig at CNN lined up – and now media watchdogs are questioning the ethics behind the the entire affair.
The situation surrounding Campbell "is a perfect example of perception's impact on whether we trust what people say," the University of North Carolina's Parr Center for Ethics fellow Lois Boynton told Fox News.
In a New York Times op-ed published Friday, Campbell pinned his departure from the FBI on attacks that "undermine not just America's premier law enforcement agency but also the nation's security." He never mentioned that he already had accepted a high-profile role as CNN's newest law enforcement analyst.
"The ethical challenge is when the words and the actions seem to diverge, and particularly when the words are written and the actions are taken on the public stage, so to speak. We tend to raise our eyebrows at big coincidences," Boynton said. "There are people who have doubts and are challenging Mr. Campbell's credibility as a newly minted CNN news analyst, and others are wondering if they should also explore his credibility while in the employ of the FBI."
Campbell, who was special assistant to former FBI Director James Comey, penned his essay amid increased scrutiny of the FBI from Republicans following the release of the surveillance memo from Rep. Devin Nunes, R-Calif.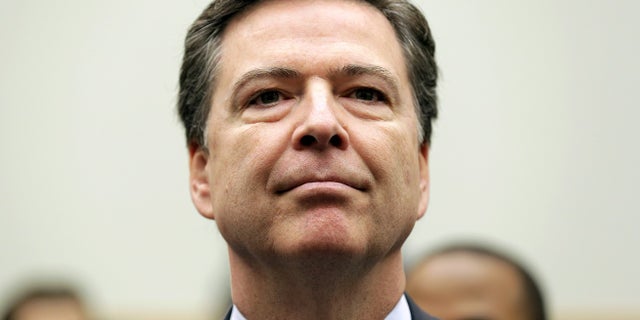 Sources believe Campbell was attractive to CNN executives because he will be able to help with the network's coverage of his old boss' upcoming book, "A Higher Loyalty: Truth, Lies and Leadership," which is scheduled to hit stores May 1.
A CNN insider told Fox News that Comey will simply "speak through" Campbell and the network won't use him to discuss matters such as mass shootings or terror attacks.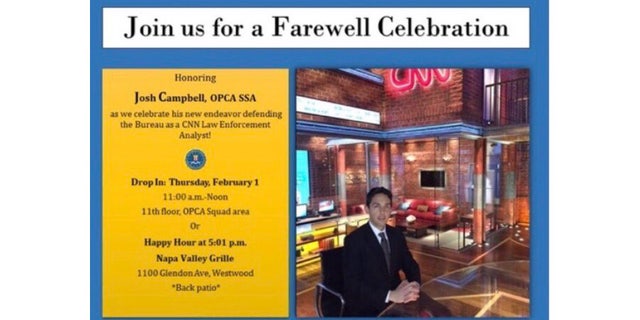 CNN did not respond to a request for comment.
When CNN casually mentioned on air that Campbell would join the network on Monday morning, industry insiders quickly pointed out that cable news jobs typically take weeks to come to fruition, making it implausible that Campbell could step down from the FBI on a Friday and suddenly land on CNN by the next business day.
Now there is proof that Campbell knew of his CNN gig when he wrote the Times op-ed.
The Daily Caller obtained a flyer for Campbell's farewell party that was handed out to all FBI employees at the Los Angeles bureau on Jan. 29. The flyer specifically stated the shindig was to celebrate Campbell's "new endeavor defending the Bureau as a CNN law enforcement analyst." The flyer was distributed five days before Campbell's op-ed appeared in the Times.
Meanwhile, a government employee who asked not to be named told Fox News that Campbell mentioned leaving the FBI to join CNN back on Jan. 17, when he moderated a panel at a Federal Executive Board event in Arcadia, Calif. – more than two weeks before the op-ed was published.
Boynton said transparency isn't a "magic potion" but would have preempted attacks on Campbell's credibility, such as former Milwaukee County Sheriff David Clarke's tweet that Campbell's move "doesn't pass the smell test."
"At minimum, if individuals aren't transparent about their intentions, they should be prepared for skeptics to publicly challenge them. Once trust is compromised, it takes significant effort to rebuild what is lost," Boynton said. "Had Mr. Campbell chosen to be transparent and reveal his career plans, he might have lessened the heated spotlight he is now under."
Michael Clark, who was an FBI agent for 22 years and now teaches criminal justice at the University of New Haven, told Fox News that if Campbell left the FBI over political considerations then "he has truly missed the essence of what the FBI is all about," which is "serving the public and keeping our nation and its citizens safe."
Clark predicted that Campbell would come to regret leaving the FBI for CNN.
His falling on his sword doesn't look so noble if one infers he was angling for his CNN gig while still on the FBI payroll.
"Once the 'crisis' of the moment passes and the news media does not need a shrill voice to criticize the FBI," Clark said. "Our client, the United States of America, with all of its issues, remains the greatest nation on this planet."
He also warned that Campbell's colleagues shouldn't aim to follow in the footsteps of CNN's newest signee.
"We have enough political voices chirping in Washington, we don't need a young on-board agent doing the same in the field," Clark said.
Former FBI agent James Gagliano, who is also a CNN contributor, even penned an open letter to Campbell that was published in The Hill. In it, Gagliano mocked Campbell's complaints that criticism of the FBI could impact national security, calling it "utter nonsense."
Viewers have a right to suspect all CNN reporting from that point was impacted by potential conflicts of interest involving both the agent and the network.
Media analyst and DePauw University professor Jeffrey McCall told Fox News, "This is the kind of shenanigans that not only leaves many Americans scratching their heads, but also makes them cynical towards both the government and the mainstream media."
"Campbell is welcome to quit the FBI and go contribute to a media organization," he said, but added the timing of the entire transition looks "very curious."
Campbell was a hero of the liberal media after he claimed his resignation was "painful" but necessary. Meanwhile, others have pondered whether he was supplying CNN with information while auditioning for the job.
Crisis management guru Arthur Schwartz said it "merits investigation" and asked, "Was he negotiating with CNN while working for the FBI? Did he leak to CNN while working for the FBI?"
"The cable news network has relied on anonymous sources within the federal law enforcement agency during the Trump administration," Daily Caller media reporter Joe Simonson wrote before detailing examples.
In the past week alone, CNN relied on FBI sources for stories regarding now-former deputy FBI director Andrew McCabe's resignation and an internal video sent to staffers by FBI Director Christopher Wray. Both of these stories almost certainly were reported after Campbell had agreed to join the network but before his op-ed ran in the Times.
"Will CNN be open and reveal when negotiations started with their new hire? Viewers have a right to suspect all CNN reporting from that point was impacted by potential conflicts of interest involving both the agent and the network," Media Research Center Vice President Dan Gainor told Fox News.
Gainor said that conservatives have "long criticized just this kind of coziness between members of government and the press" but CNN "embraces" it.
"His falling on his sword doesn't look so noble if one infers he was angling for his CNN gig while still on the FBI payroll. If the Times knew of Campbell's upcoming CNN status at the time of this op-ed, then shame on the Times for not disclosing that situation," McCall said. "If Campbell withheld that information from the NYT as he was submitting his oped, then shame on Campbell."
A New York Times spokesperson offered the following statement when asked if the paper knew about Campbell's role at CNN when the op-ed was published: "Campbell's op-ed focused on why he retired from the FBI. Signing on as a contributor to a cable news show does not disqualify someone from contributing to The Times Op-Ed page nor does it conflict in any way with the message of his op-ed."
The FBI declined comment when reached by Fox News.