CNN now blames Anderson Cooper's assistant, mysterious gym 'hacker' for crude insult to Trump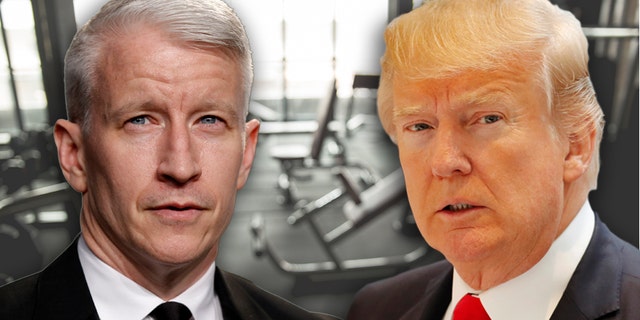 CNN faced widespread mockery and skepticism Wednesday after the network claimed an unidentified gym locker room thief sent a tweet from Anderson Cooper's account that called President Trump a "tool" and a "pathetic loser."
In a statement, CNN claimed the tweet in question was sent from a phone belonging to Cooper's assistant in New York while Cooper himself was in Washington D.C.
"[Cooper's] assistant inadvertently left his phone unlocked and unattended at the gym early this morning," the statement said, "and someone took the phone and sent the Tweet."
CNN added that Cooper's assistant has worked with him "for more than a decade" and is "the only other person with access to Anderson's Twitter account."
The network's convoluted explanation led to incredulity and ridicule on social media. BuzzFeed reporter Chris Geidner, who like Cooper is gay, tweeted in response, "I have never met a gay man who has left his phone unlocked and unattended at the gym, but OK."
James Hasson, a contributor to The Federalist, sarcastically asked, "Who among us hasn't opened an unlocked gym locker, found an unlocked smart phone among its contents, used it to log into the owner's twitter account, and upon seeing it was Anderson Cooper's, sent a tweet at the President and then put the phone back exactly where it was?"
Shortly before CNN issued its statement, Cooper deleted the tweet and sent a new message, claiming he was asleep and "just woke up to find out someone gained access to my twitter account."
"We are looking into how this happened," he added.
CNN tweeted that it was "working with Twitter" to secure Cooper's account. However, Twitter declined comment when asked if the company was working with CNN to figure out who allegedly hacked Cooper's verified account. The Twitter spokesman ignored several requests for additional information, referring Fox News to CNN's communications team.
CNN did not respond when asked if the alleged perpetrator was identified or if the investigation is still ongoing.
The initial tweet from Cooper's account came in response to Trump explaining why Republican Roy Moore wasn't able to win Tuesday's Alabama Senate special election race. "Oh, really? You endorsed him tool! Pathetic loser," read the tweet.
While opinion hosts such as MSNBC's Rachel Maddow and Fox News' Sean Hannity offer scathing commentary on a regular basis, Anderson is portrayed as a down-the-middle newsman. He even moderated a 2016 presidential debate between Trump and Hillary Clinton.
Because of Cooper's alleged bi-partisanship, the initial tweet took the Internet by storm. Cooper is the face of CNN, the network that has an ongoing feud with President Trump. While Trump often refers to CNN as "fake news," a personal attack from the network's biggest star would have presumably escalated the beef to new heights.
Earlier this week, White House Press Secretary Sarah Sanders shut down CNN's Senior White House Correspondent Jim Acosta when the reporter tried to hijack a press briefing with grandstanding – which has become a signature move of Acosta.
CNN also had to issue a correction on Friday after The Washington Post debunked the network's report claiming the Trump campaign had early, secret access to hacked DNC emails from WikiLeaks. The network on Friday inaccurately trumpeted that Congressional investigators obtained a mysterious 2016 email that was sent to Trump and other top aides, including Donald Trump Jr., which contained information on how to get a sneak peek at hacked information that WikiLeaks had acquired. The email, as CNN reported, offered a "decryption key" to access the files – but the network botched the date on the email, rendering the entire report irrelevant.
On Monday, CNN backtracked a report from earlier this year that faulted Attorney General Jeff Sessions for failing to reveal meetings he had with Russian officials when he applied for his security clearance – a disclosure he wasn't required to make. CNN also was widely mocked on Monday morning for a segment on Trump's soda intake amid unfolding breaking news related to the terror attack in New York City.