Christina Grimmie's mom shares story of last time she saw her daughter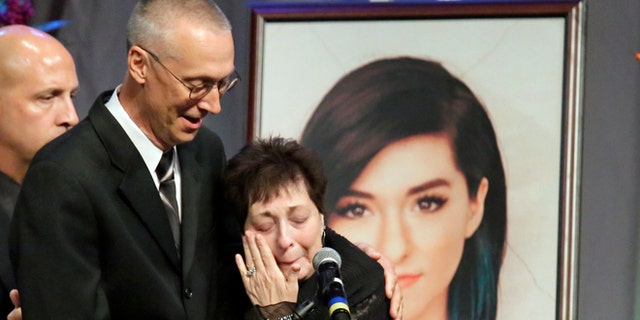 NEWYou can now listen to Fox News articles!
Friends, family and fans gathered for Christina Grimmie's memorial on Friday, where they paid tribute to the late singer, and said their goodbyes. While Grimmie's "Voice" family did not attend the service, her "Voice" coach Adam Levine did cover the funeral expenses.
Grimmie's mother, Tina Grimmie, was one of several family members to speak at the service, held at Fellowship Alliance Chapel in Medford, New Jersey, and she remembered the last time she was with her daughter.
WATCH: Selena Gomez Breaks Down During Tribute to Christina Grimmie at Miami Concert
"The last time I saw my daughter was on my birthday," Tina began, recalling her last memory of Christina. "It was May 25th and we, the day before, the 24th we had a mother-daughter -- we always have a mother-daughter time. We'd go get something to eat and talk and then we went on my birthday -- me, Bud, Christina and Mark -- we went to Cheesecake Factory and it was really nice. And then they had to get things ready for tour," she said, before breaking down into tears.
"I always told her I loved her...I just want her to come home and I want to see her," Tina continued, trying to keep her composure.
Grimmie's mother shared that she's still trying to come to terms with her daughter's tragic death on June 10, when she was killed after performing at her concert in Orlando, Florida. "I was really mad, but when Christina went home to be with the Lord Jesus, I told him 'I'm not mad. I'm not mad. But I want to know why'" Tina said. "I'm just taking one day at a time and the prayers that hold me up."
WATCH: Everything We Know About Christina Grimmie's Tragic Death
Grimmie's father, Bud, was next to pay tribute to his daughter. "There's this gigantic hole in my heart that I know is never going to go away. Never going to go away," he said to the crowd with a heavy heart.
However his heartfelt goodbye ended on a hopeful note, as Bud shared that he knows he's "going to see [Christina] again." "She's better off," he said. "She's way more alive now than she's ever been. She's not going to be hurt anymore."
Christina's brother, Marcus, also took the stage to remember his younger sister, revealing he's still having trouble speaking about her death.
"I don't have words still -- and it's a good and bad thing," Marcus began.
WATCH: Christina Grimmie's Brother Releases Heartbreaking Statement Following Sister's Death
"All I'm going to say is thank God for the mark that she left on this world," he said. "I mean, it's insane. It's more and more clear to me now than it ever was before. And thanks Mom and Dad. It's going to be tough for us to move forward with this but I just know Joan, the mother of the group we were touring with, comforted us after the fact and the rumors are true -- that when the gunman came, he was very quick, it happened so fast, but her arms were open...Her arms were open for him. That's how she treated everyone she knew."