Century of Scandal: Britney Spears' journey from bald to brunette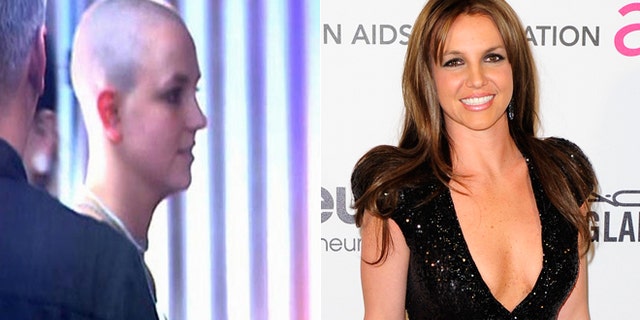 Oops . . . she did it again. Britney Spears got a new hairstyle. And it's a heck of a lot nicer than the bald look she sported in 2007.

Spears, 31, is getting noticed all over again for the new face-framing cut and chocolate brown color she debuted at Elton John's Oscar party last month. But while Brit is getting rave reviews for the natural-looking new 'do, this certainly wasn't the case back on February 16, 2007, when a clearly unstable Britney shaved her head with electric clippers at a hair salon in the Los Angeles suburb of Tarzana, Calif.

At the time, the pop princess had been on a downward spiral for months. In November 2006, Spears filed for divorce from backup dancer Kevin Federline, the father of her two young sons. In January 2007, her beloved aunt died of ovarian cancer. And just before shaving her head, Spears checked in and out of rehab within 24 hours.

The shocking image of a bald Britney provided photographic evidence that the former teen queen was, well, losing it. But things only got worse on February 23, when she infamously assaulted a photographer's car with a green umbrella.

"I apologize to the pap for a stunt that was done 4 months ago regarding an umbrella," Spears later explained on her website. "I was preparing my character for a role in a movie where the husband never plays his part so they switch places accidentally. I take all my roles very seriously and got a little carried away. Unfortunately I didn't get the part."

If you believe that one . . .

But after years of custody battles, conservatorships and forgetting to wear panties in public, Spears seems to have gotten her act together — literally. She's currently in talks to sign a long-term contract to headline a show in Las Vegas, after her judging gig on "The X Factor" fizzled out. And just two months after she called off her engagement to ex-manager/fiancé Jason Trawick, she's reportedly dating a new guy, a non-famous legal researcher named David Lucado.

You know what they say: new man, new 'do. Anyone else worried about what she'll do to her hair if they break up?

POLL: Do you like Britney better as a blonde, a brunette or bald?