CBS News rocked by shakeup as '60 Minutes' staffer walks back support of Fager's threatening text: 'I was stunned'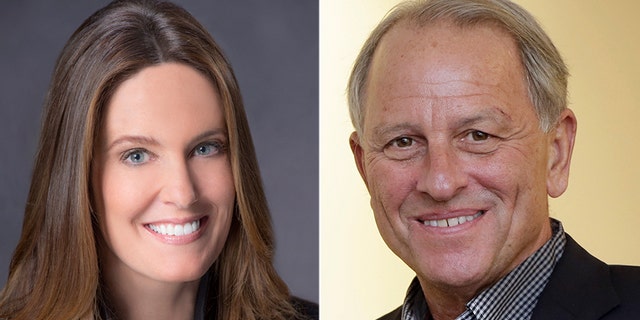 CBS News is shaken on the heels of CEO Les Moonves and "60 Minutes" honcho Jeff Fager being ousted from the network amid sexual misconduct allegations – and at least one of Fager's initial supporters backtracked after seeing the threatening text message he sent to a female staffer.
The high-powered Fager was shown the door on Wednesday for sending a threatening text message to a CBS reporter regarding coverage of the allegations. CBS News President David Rhodes claimed that Fager's termination was "not directly related to the allegations surfaced in press reports," but instead because he violated a company policy.
"Several people were in tears," inside CBS News when the firing was announced internally, according to The New York Times, which published a lengthy feature on "upheaval" at the network.
"Some members of the show's staff were livid," the paper reported.
Fager responded by claiming he simply sent a "harsh" text message and declared that it should not have resulted in the dismissal of an employee after 36 years.
The Gray Lady reported that "more than 60 members" of Fager's staff went out for drinks at the famed P.J. Clarke's with their now-former boss on Wednesday afternoon. Several CBS News staffers "were teary-eyed as they showered Mr. Fager with praise and hugs," according to the Times.
Accomplished "60 Minutes" correspondent Sharyn Alfonsi told the Times that it was a "terrible day" for CBS News, while correspondent Bill Whitaker told the paper Fager was "a wonderful boss." Alfonsi even told the paper she didn't understand how Fager was "fired over a text message," but her support didn't last long.
"I was stunned. It was inappropriate"
Alfonsi made the statement to the Times before the text message was released and she changed her tune once the nasty message was revealed on "CBS Evening News."
"I was stunned. It was inappropriate," Alfonsi told Fox News on Thursday.
Shortly after the group gathered to reminisce about Fager's tenure and Alfonsi spoke to the Times, it was time for CBS' evening newscast – which would go on to shock the media industry. CBS reporter Jericka Duncan revealed that she was the person on the receiving end of Fager's now-infamous message.
"I am that reporter. Since Jeff Fager publically referred to our exchange today, I want to be transparent about it," Duncan said. She explained that on Sunday, she got in touch with Fager requesting a comment for a story published about the allegations against him.
"If you repeat these false accusations without any of your own reporting to back them up you will be held responsible for harming me," Fager wrote in the text, according to Duncan.
"Be careful," the text continued. "There are people who lost their jobs trying to harm me and if you pass on these damaging claims without your own reporting to back them up that will become a serious problem."
Whitaker – one of the "60 Minutes" correspondents who reportedly supported Fager over drinks -- did not respond when asked if he feels the text messages were enough to merit Fager's dismissal now that the content has been revealed.
While several CBS News staffers are clearly on Team Fager, the longtime newsman also has his detractors. Duncan felt threatened by the message she received and seemingly informed one of the few CBS News executives in a position to take action.
"CBS Evening News" anchor Jeff Glor, who is arguably the beleaguered news division's biggest remaining star, called Fager's text message "unacceptable." CBS morning show star Gayle King has called for her network to release the findings of its ongoing investigation into the sexual misconduct accusations.
The "60 Minutes" staffers who reportedly went drinking with Fager after his dismissal, combined with CBS News talent publicly condemning his actions, is a clear sign of a divided newsroom. The Associated Press even reported "extraordinary drama" at the network as a result of the recent shakeup.
CBS News did not immediately respond to a series of questions, including whether or not the text message was made public to combat staffers who openly supported Fager.
In July, Pulitzer Prize-winning reporter Ronan Farrow cited 19 current and former staffers who alleged that Fager "allowed harassment in the division," while six former staffers accused him of inappropriate touching.
The latest allegation against Fager comes from Sarah Johansen, a former CBS intern who told Farrow that the "60 Minutes" executive producer groped her at a work party. She told Farrow the famed news division has a "boy's club" culture and female staffers referred to avoiding the "Fager arm" at work functions.
Fager's termination came three days after former Moonves stepped down amid sexual misconduct allegations and less than a year after "CBS This Morning" co-anchor Charlie Rose – who was handpicked by Fager – was terminated over similar accusations. The result is, arguably, the three most powerful men at CBS News exiting within a year as part of the #MeToo movement.
"I am happy to dance on [Moonves'] professional grave," longtime CBS content creator Linda Bloodworth recently wrote in a scathing editorial for The Hollywood Reporter.
Earlier this week, CBS announced plans to donate $20 million to charities affiliated with the #MeToo movement and equality for women in the workplace.
Fox News' Elizabeth Zwirz contributed to this report.