CBS gets it right in coverage of Kevin Ware's gruesome leg injury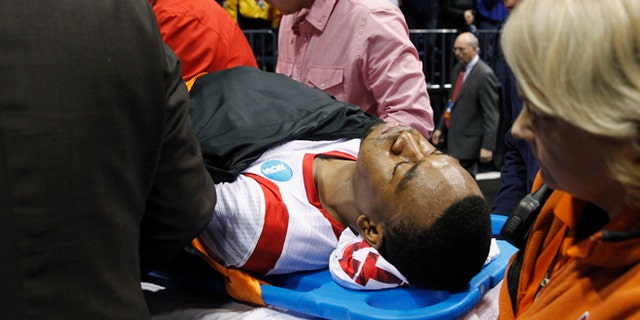 After two initial replays, CBS stopped showing footage of Louisville's Kevin Ware breaking his leg during the first half of his team's NCAA Tournament game against Duke yesterday.
The injury during the nationally televised game, and the shocked reaction of Ware's fellow players, called to mind the gruesome broken leg suffered by Redskins quarterback Joe Theismann in a Monday Night Football game in 1985. During yesterday's game, Theismann tweeted his best wishes to Ware.
Ware had leaped to try to block a shot by Duke's Tyler Thornton. His leg landed awkwardly, buckled and flopped as he fell to the ground. The first hint that the injury was out of the ordinary came from Thornton, who put his hands to his face and had an anguished look as he ran back on defense.
CBS commentator Clark Kellogg described the injury as "gruesome."
"If you can bear to watch it, take a look, but it's a gruesome-looking injury," Kellogg said.
CBS showed the replay twice in slow motion, although not with a close-up of Ware landing. The network also never showed a close-up of the injury.
CBS then concentrated on reaction shots. Three of Ware's teammates were on the ground near the basket. Wayne Blackshear cried, Chane Behanan knelt on his hands and knees and Peyton Silva sat, a hand covering his mouth.
The network aired a close-up of medical officials working on Ware, showing the player only from the face up.
CBS Sports Chairman Sean McManus said that because of the graphic nature of the injury, the network decided not to show it after the original replays. People could quickly find replays on YouTube, anyway.
"We did not zoom in on the injury when he was taken off," McManus said. "We did not try to highlight it. I think we did the right thing."
At halftime, Greg Gumbel noted CBS would not show the injury. Its highlight package again focused on the reactions, including Louisville coach Rick Pitino wiping away tears. Pitino answered questions from CBS during the game about Ware, noting the injured player was exhorting his teammates to win the regional final. A Louisville spokesman said Ware was "resting comfortably" at Indianapolis' Methodist Hospital.
The network's decision to stop showing the replay only goes so far. After the game ended, the CBS affiliate in Phoenix aired the footage of Ware being injured in a local sports report.