'Big Bang Theory' exec Chuck Lorre asks God to 'make thy presence known on' Election Day in show credits
CBS sitcom "The Big Bang Theory" snuck an apparent anti-Trump message that urges "God" to increase midterm voter turnout to combat a "fascist, hate-filled, fear-mongering, demagogic, truth-shattering, autocratic golf cheater."
The message, which was noticed and captured by Media Research center contributor Rebecca Downs, was placed between the closing credits and the Warner Bros. logo on the Oct. 25 episode of Chuck Lorre's "The Big Bang Theory." It doesn't mention Trump by name but urges "God" to "make thy presence known on" Election Day.
"Of course if you, in your divine wisdom, believe a fascist, hate-filled, fear-mongering, demagogic, truth-shattering, autocratic golf cheater is what we need right now, then, you know, thy will be done," the message read.
"But if thou art inclined to more freedom, more love, more compassion, and just more of the good stuff thou hath been promoting in our hearts or our parietal lobes – either one, doesn't really matter – I submissively ask that thy encourage voter turnout in that general direction," the message continued. "Also God, please help Bob Mueller."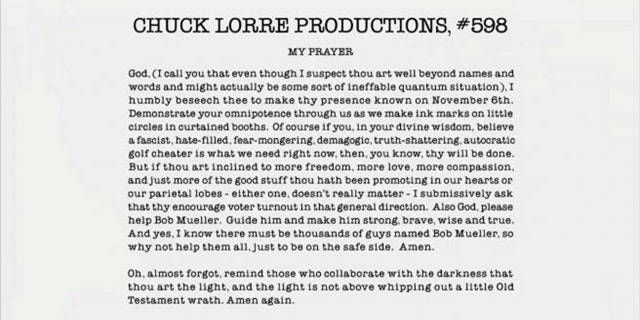 CBS did not immediately respond to Fox News' request for comment.
Chuck Lorre Productions places messages referred to as "vanity cards" after each episode and there have been 598 different cards to date. The "vanity cards" are visible on the official website of Chuck Lorre Productions, which has placed the messages after "Grace Under Fire," "Cybill," Dharma & Greg," "Mike & Molly," "Two and a Half Men," "Mom" and "Young Sheldon," in addition to "Big Bang."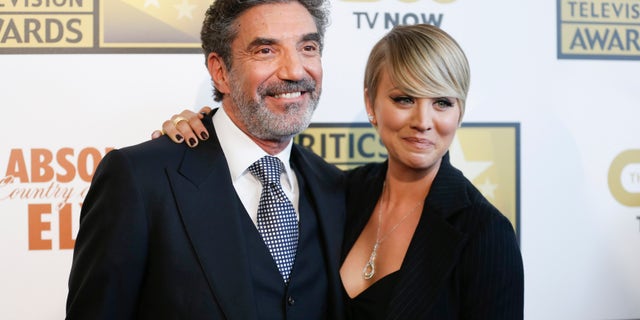 This is not the first time Lorre has included an anti-Trump message in his vanity cards. In a November 2016 card, Lorre mocked the "Make America Great Again" slogan as "a bumper sticker for victimhood." The exec has also mocked "The Apprentice" ratings, noting that it didn't beat his show "Two and a Half Men" back in a 2017 card. The "vanity cards" have been used for everything from political messages to wishing Lorre a happy birthday.