CBS and Time Warner Cable reach deal to end blackout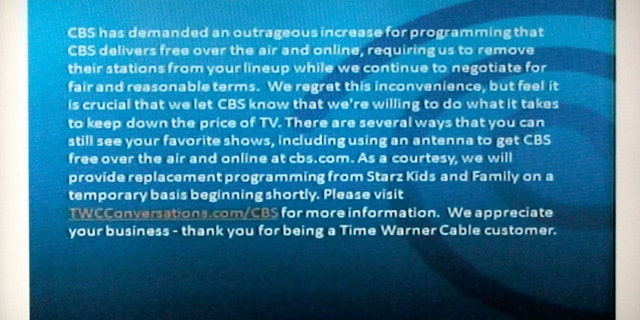 TV network CBS and cable provider Time Warner Cable have ended their payment dispute and expect programming to resume in millions of homes Monday night.
The agreement ends a monthlong blackout of CBS and CBS-owned channels including Showtime Networks, CBS Sports Network and the Smithsonian channel that affected more than three million homes in Dallas, Los Angeles and New York and began Aug. 2.
The companies were in dispute about how much Time Warner Cable Inc. would pay for CBS Corp. programming. Specific terms of the deal were not disclosed.
The disagreement comes at a touchy time for networks and cable companies as more and more Americans are turning to alternative ways to watch TV including online or via Roku boxes or Apple TV.
The agreement includes retransmission fees that the cable operator pays to CBS per subscriber, which had been a sticking point.
Added pressure was on the two companies to reach an agreement since the start of football season and the U.S Open tennis tournament had begun in New York.
The blackout affected about 1.1 million of New York's 7.4 million television households that get CBS. An estimated 1.3 million of 5.6 million households in Los Angeles were blacked out, along with 400,000 of Dallas' 2.6 million TV homes, CBS said. Those are three of the nation's five most populous television markets.
CBS estimates the blackout cuts the network's national viewership by about 1 percent.
The talks were being closely watched beyond these companies and their customers because of the idea that a retransmission agreement will set a precedent for future negotiations between different networks and cable or satellite companies. Another point of contention was the cable operator's access to CBS material for on-demand or mobile device viewing.
"While we certainly didn't get everything we wanted, ultimately we ended up in a much better place than when we started," said Time Warner Cable's CEO Glenn Britt in a statement.