Catt Sadler slams E! after ex-producer says she was fired for airing interview supporting former host
Catt Sadler slammed E! and showed support for a former producer who said she was fired from the network after airing red carpet interviews of celebrities supporting Sadler during the Golden Globes.
Sadler, who left her job at E! after discovering her male co-star Jason Kennedy was allegedly making nearly double her salary, told Variety on Saturday it was "disappointing" to see the entertainment network censor opinions. The former host's statement comes a day after producer Aileen Gram-Moreno told The New York Times she was fired after a clip of Eva Longoria criticizing E! aired on the channel during the Golden Globes red-carpet channel in January.
"It's disappointing that any network would order the censorship of opinions," Sadler told Variety. "But it's particularly disturbing in this case because we are at a cultural tipping point where women feel more and more comfortable being vocal about issues like pay equality and sexual misconduct. To shut down those conversations is to stifle progress."
EX-E! PRODUCER SAYS SHE WAS FIRED AFTER AIRING INTERVIEWS OF CELEBRITIES SUPPORTING CATT SADLER
Sadler also showed her support for Gram-Moreno by tweeting Sunday: "If there was any question, please know that I stand with Aileen. #TimesUp"
Sadler included a screenshot of a post, written by Gram-Moreno's daughter.
Gram-Moreno filed a complaint Thursday with the Equal Employment Opportunity Commission, claiming she was "unfairly terminated and replaced with a male." Gram-Moreno told The New York Times that E! had her screen all pre-recorded red carpet interviews at the Golden Globes after Debra Messing criticized the network for its alleged unfair treatment of Sadler in an earlier clip.
"They said, if there's any mention of Catt in the preshow, make sure you flag it," Gram-Moreno said. "You're censoring celebrities; it's just not a good idea in my humble opinion. But it wasn't my decision."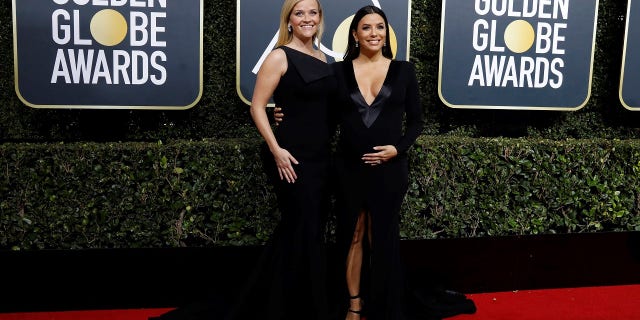 Gram-Moreno said the high volume of interviews to look through made it impossible to thoroughly review them all. She said she was fired less than a week after she overlooked Longoria's comment supporting Sadler.
'E! NEWS' HOST CATT SADLER LEAVES NBC CITING MASSIVE PAY GAP BETWEEN HER AND CO-HOST JASON KENNEDY
E! Entertainment President Adam Stotsky fired back at Gram-Moreno's claims and said the producer, who worked for the network for the last 12 years, was let go — not fired because she was a freelancer — because of a "pattern of poor performance." Stotsky also disputed Sadler's pay disparity claims.
Katherine Atkinson, Gram-Moreno's lawyer, said the network officials "never once raised a performance issue" while Gram-Moreno was working there.
E! has faced mounting scrutiny ahead of Sunday's Oscars after Ryan Seacrest was accused of sexual misconduct by his former stylist. The network, owned by NBC Universal, confirmed Seacrest still would host the network's red carpet pre-show despite the allegations.
Fox News' Kathleen Joyce contributed to this report.