Carrie Underwood: I'm More Than Just Blonde Hair and a Pretty Dress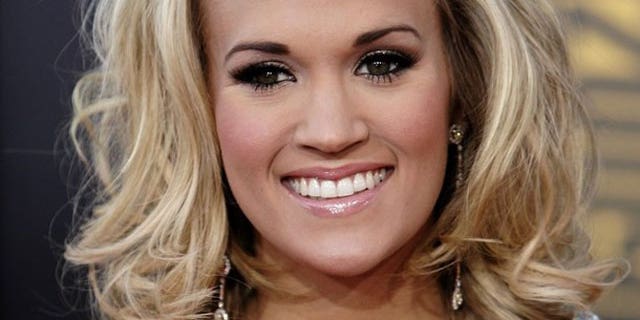 LOS ANGELES – Carrie Underwood definitely didn't let us down when she put on quite a sassy, sexy performance of "Casanova Cowboy" at the American Music Awards on Sunday (and showed off her lush legs in a short get-up) -- but the country crooner insisted that there is much more to her than meets the eye.
"I get to sing from the heart and I don't feel like I've ever really done that before. Its therapeutic , not in a way like 'me and my best friend had a fight and I write about it.' Its therapeutic in a way that I'm a private person and one thing people say constantly about me is she doesn't say much," Underwood told us with regards to her latest album, "Play On."
"I'm a quiet person, I'm a private person and I feel like this is something that even in the songs that I picked that I didn't write, I feel like I do more then just scratch the surface and it is more than just blonde hair and a pretty dress. It's kind of in here (points to her heart). So it makes me feel really good .... that I feel like I've accomplished something more with this album that I haven't done in the past."
On the note of the past, it is hard to believe that it has been five years since the now 26-year-old won our hearts on "American Idol," and while she doesn't have kids of her own (yet) she feels just as grown-up as her childhood school pals.
"I feel like this is the time in life designed for maturity and most of the people I went to school with are married and have kids.... This is just a time for growth anyway and I feel like I definitely experienced a lot of growth from then to now. Maybe in a different way but I still feel sane and which is important and I feel like I've grown up a lot."
And even though music is no doubt Miss Underwood's "thing," could we be seeing her on the big screen sometime soon?
"I don't have an acting "bug." It's not something that is on my bucket list," Underwood said. "But if the right thing came up and we were approached and told 'hey, this would be something cool for you, something small.' I'm not looking to do any Shakespeare or anything major. Something small, something fun and it sounds like it would be a good time then I'd be in."
And apparently we're going to be seeing a totally new side of the "Idol" alum, having just taped a two-hour Variety Christmas Special (to air on FOX on Monday December 7th) in which she pretty much mocks herself and stars alongside the likes of Brad Paisley, Dolly Parton, Ryan Seacrest and David Cook.
"Kristin Chenoweth and Christina Applegate, we do a fun thing together. Three blondes get together and do something really cool," Underwood added. "We just took a lot of things from my life and incorporated them. My mom gets to have fun on the show. She actually is showing everybody where I get 'it' from ... if you will. It was just a lot of fun. We definitely wanted to show a different side of me and I definitely make fun of myself."