Carlos Vives says collab with Shakira on his next album was all fun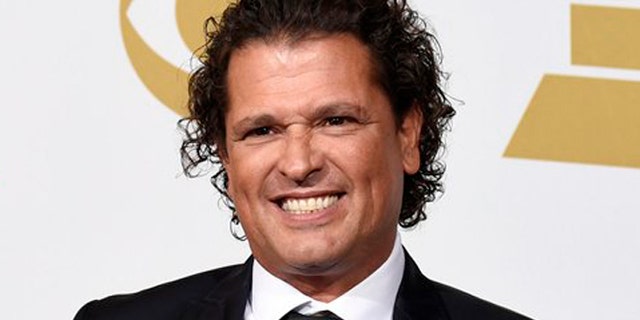 NEWYou can now listen to Fox News articles!
NEW YORK (AP) – Carlos Vives hopes the video for "La bicicleta (The bicycle)" that he and Shakira shot recently in Colombia will reflect how much fun the pair had filming it.
The superstars made a splash last week in their native country while filming the clip of their first collaboration, which was released Friday. They went from Vives' Santa Marta to Barranquilla, where Shakira is from, catching the attention of the locals.
"The work was intense but also delightful. Both for Shaki and for me, being back in our territory, plus the emotional load that this had for us, it was wonderful. We were really happy riding our bikes, singing on our bikes," the 54-year-old Vives told The Associated Press by phone from Cartagena, Colombia.
"We were kids again," he added enthusiastically. "We wanted to do everything barefoot. We strolled happily to several places. ... And watching Shaki contented, happy, reuniting with her friends, with her people, I think that the video registered a very, very special energy."
"La bicicleta" is the first single of Vives' next album, "La fiesta de todos (Everybody's Party)," planned for early 2017. The video, directed by Jaume De Laiguana, will be ready in about four weeks, Vives said.
"The song has this spirit of freedom and freshness and we were able to give it some of the local sounds. We rescued those Millo flutes so typical of Shakira land, from the Barranquillero musicality, from its Carnival, and blended them with those vallenato accordions of ours," he said. "It is truly a modern song but in its content and essence, it has many elements of our region, and that connected us."
The collaboration happened after Vives presented his record label, Sony, with proposed songs for his upcoming album, the follow-up to his 2014 Grammy-winning "Mas + Corazon profundo (More + Deep Heart)."
"Shakira listened to part of the material. She loved the song and asked me if she could work on it with me," he said. "Shaki is a producer, Shaki is also a songwriter, so she gave the song her touch."
On his new album, Vives will maintain the style that has made him one of the vallenato voices most recognized outside of Colombia.
"I keep myself in that music territory that we began exploring 25 years ago, I've always been there," said the singer-songwriter, whose hits include "La Gota Fria (The Cold Front)," ''La Tierra del Olvido (The Land of Oblivion)" and "Fruta Fresca (Fresh Fruit)."
"My proposal is always to go and rediscover that path that doesn't stop surprising us. I always follow ... that rock from my village, that modern sound that preserves much of the tradition but also makes use of new sounds."