Candy Spelling dishes about penile implants and relationship with Tori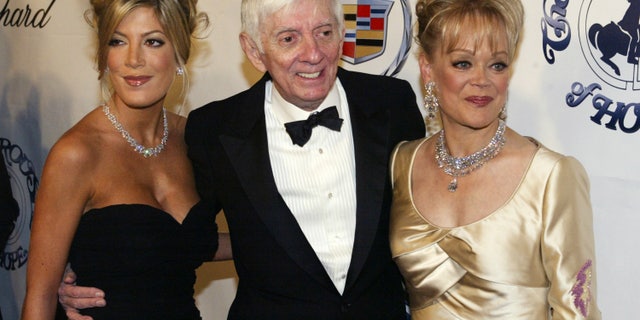 Candy Spelling has a new book out called "Candy At Last" and according to Rob Shuter of VH-1's "The Gossip Table," the 68-year-old socialite dishes some ribald tales. After her husband TV mogul Aaron Spelling passed away in 2006 she began dating.
Her first boyfriend named "Larry" had a penile implant that allowed him to have sex for hours on end.
"My bionic man could go on for five or six hours, and there is no woman, middle-aged or otherwise, who wants to have sex for that long," she writes. "It was like running a marathon."

She broke up with Mr. "Pump and Dump," as her girlfriends had cheekily nicknamed him, because he was "getting too attached," and she just couldn't stand "those six-hour romps anymore."
The memoir also covers her often-fractured relationship with Tori claiming that the first time she met Tori's husband Dean McDermott was at her husband's funeral which created an awkward tension. It wasn't until the birth of Tori's first child, Liam, that they healed the rift.
She admits they have "never discussed that painful period in our lives when we didn't speak. We just tried carefully to move past it."
Spelling also says that Tori was not disinherited from her father's will.
"What nobody knew was that both Tori and (brother) Randy had already received disbursements from a trust while Aaron was still alive," she writes, adding that she has established college funds for her six grandchildren.