Calle 13 Takes on Human Trafficking in Latin America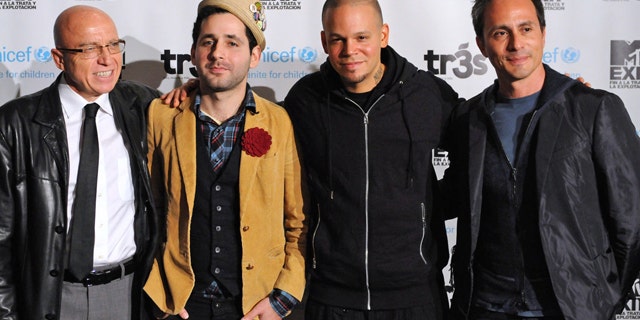 Calle 13 has never been shy about shining a light on some dark realities in Latin America.
Its most recent initiative is no different.
The Puerto Rican duo is teaming with UNICEF and MTV Exit project to bring awareness to the problem of human trafficking.
"We are grateful to MTV and UNICEF for thinking of us for this tremendous project," said René "Residente" Pérez in Spanish.
If Calle13 can't help us get the message out, I don't know who can
The 19-time Latin Grammy-award winners and representatives from MTV and UNICEF announced the initiative, a multimedia campaign that aims at increasing awareness of the widespread problem, during a press conference Monday in Manhattan. The documentary is entitled "Esclavos Invisibles," or "Invisible Slaves."
"The reality is that combating this issue is everyone's responsibility; that is, the message we hope to bring to audiences in the U.S. and Latin America, " said Mario Cader Frech, vice president of Public Affairs at MTV Tr3s and MTV Latin America. "If Calle13 can't help us get the message out, I don't know who can."
By tapping into the undeniable popularity of the duo and incorporating their well documented passion for human rights activism, MTV hopes to reach a large number of young Latinos with Calle 13 – many of whom are the most vulnerable to the advances of dishonest and dangerous traffickers.
"With this campaign we want to provide information especially to young people so that they can protect themselves and protect each other," said Bernt Aasen, UNICEF's regional director for Latin America and the Caribbean. "Human trafficking turns the dream they have for a better life into a nightmare."
According to UNICEF, over half a million young people in Latin America alone are victims of human trafficking. Overall, the UN estimates that nearly 2.5 million people worldwide have been affected.
"What is happening with the young people and the children in Latin America is like 21st century slavery. So many are being forced into either labor or prostitution...." Pérez said.
Pérez and Eduardo "Visitante" Cabra, Calle 13's other half, not only hosted and directed the documentary but they donated the rights to Pérez's composition, "Prepárame la cena," from their recent release, "Entre Los Que Quieran," for Esclavo Invisibles's first trailer.
"The young people are key to the development of any country and instead of being in school they are in the street, often on drugs," Pérez said. "If they start on that path it only creates more problems for the countries they are in."
MTV's Esclavos Invisibles (Invisible Slaves), hosted by Calle 13, will air next Tuesday, November 29th.
Erica Y. Lopez has written for ABCNews.com and is a freelance writer for Fox News Latino. She can be reached at Ericaylopez@gmail.com or via Twitter: @Lalosays
Follow us on twitter.com/foxnewslatino
Like us at facebook.com/foxnewslatino