Calle 13 Sweep Breaks Records at the Latin GRAMMYs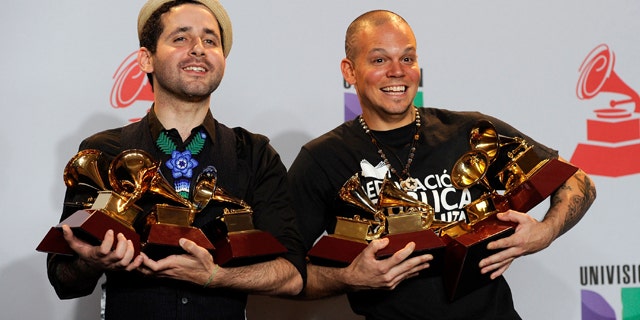 It was all about Calle 13 at the Latin GRAMMYs. The Puerto Rican duo made history Thursday night breaking two records: for most GRAMMY awards won in a career and in one single night.
The group took home the accolade for "Album of the Year" along with eight other awards as the biggest night in Latin music was once again celebrated at the Mandalay Bay center/resort in Las Vegas, Nev.
Lucero and telenovela icon Cristián de la Fuente hosted the awards ceremony.
Calle 13, nominated for 10 awards, opened up the awaited gala performing their hit "Latinoamerica" with the Venezuelan opera, Orquesta Juvenil Simon Bolivar, directed by Gran Maestro Dudamel.
Rene "Residente" Joglar rapped passionately about the beauty in Latin American barrios (neighborhoods) as his brother "Visitante" Eduardo José Cabra Martínez produced and their sister, "PG-13" Ileana Cabra Joglar's high notes left everyone in silence.
The group would later win the Latin Grammy for "Latinoamérica" in the "Song of the Year" (songwriters) category.
Franco de Vita won in the "Best Male Vocal Pop Album" category.
"Thank God Calle 13 isn't in this round," he joked as the crowd broke in laughter. "Rene, I love you," he said as he spoke to "Residente" from the stage.
Los Tigres del Norte took home the award for "Best Norteña Music Album," for their MTV Unplugged collaboration, "Los Tigres del Norte and Friends," with none other than Calle 13, Paulina Rubio and Juanes to name a few.
"René, come up onstage," said one of the lead singers as they received their award. "You are such a big part of this beautiful thing."
"Residente," who as usual sported a casual getup of sweats, sneakers and a T-shirt with a revolutionary fist in the middle dedicated his awards to "the education fight in Latin America," and to "the people who make real music."
"Thanks Tego Calderón, Wisin y Yandel, and Daddy Yankee," Joglar said after Calle 13 won the Latin Grammy for "Best Urban Music." "To those who make music because it is really what they feel."
"Free education for all! Long live the education fight in Colombia… Chile, Dominican Republic… Puerto Rico."
With tears in his eyes, "Residente" added that "Puerto Rico inspires him" to write his music.
"Que viva la musica! Long live the music," he continued "Que viva Latinoamerica! Long live Latin America."
Fellow musician and education activist Shakira was honored (again) for her philanthropic contributions to global education reform after performing two of her biggest hits "Antes de la seis," and "Loca."
She also won the Latin Grammys for "Best Feminine Pop Vocal Album."
"One of my favorite passages in the bible is Corinthians 3: 13," Shakira said. "Without love nothing is good for me and without love I am nothing."
"To my loved ones… my family and my brother Tony thank you for your friendship."
It was a prideful moment for Colombians, Baranquilleros especially, as Shakira then thanked "Modern Family" star Sofía Vergara who presented her with another award.
"I dedicate this to my colleagues," Shakira said. "It's one of the most important moments in my life. Last night was unforgettable."
Besides Shakira performing, multiple duets had the crowd on their feet throughout the evening.
These included a first-ever performance by Romeo Santos and Usher of "You," Pitbull and Marc Anthony's "Rain Over Me," and the Black Eyed Peas and newcomer Sie7e, who took home the Latin Grammy for "Best New Artist."
"Que viva México!" Taboo yelled fist in hand.
Disney's former princess, Demi Lovato also took the stage. But, it was her plunging JLO-esque neckline that had everyone talking.
Maná proved why they are timeless, winning the Latin Grammy in the "Best Rock Album" category for "Drama y Luz."
The legendary band then switched things up and sang a Bachata rendition of their latest hit "El verdadero amor perdona" with Prince Royce.
"Rock is still alive!" said Maná's leading singer José Fernando "Fher" Olvera.
Los lideres, Wisin y Yandel also had a colleague onstage, Sean Kingston, as fire and sexy dancers heated things up.
You can reach Alexandra Gratereaux at: Alexandra.Gratereaux@foxnewslatino.com or via Twitter: @GalexLatino
Follow us on twitter.com/foxnewslatino
Like us at facebook.com/foxnewslatino