Bruno Mars on Sesame Street: "Don't Give Up"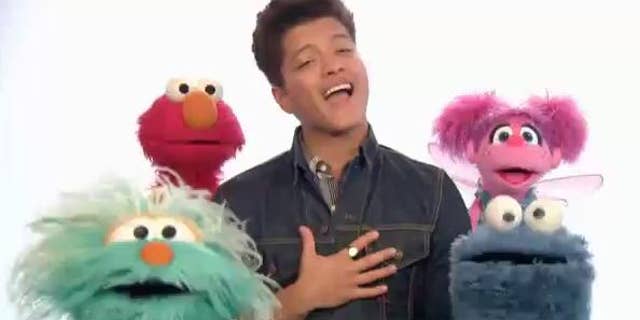 Bruno Mars' mantra these days seems to be "Don't Give Up."
The part Puerto Rican singer took to Sesame Street to spread his message about staying positive and he had the help of some cute children's characters.
Mars, who won the "Favorite pop/rock male" award last weekend at the American Music Awards, joins Colombian celebs Juanes and Sofía Vergara in making an appearance on Sesame Street earlier this year.
Both Juanes and Vergara joined forces for a commemorative Sesame Street episode highlighting Hispanic Heritage month celebrated in the United States from September 15 - October 15.
In the episode Juanes sings along with Elmo and Rosita while teaching them the Spanish words for hands, feet and head, while Vergara conversed with Elmo about the word "baile" (dance.)
Mars says "when you want to do something that's new, and it seems it's really hard to do, you feel like quitting, you feel you're through. Well I got some advice for you don't give up." Elmo, Rosita, Zoe, and Cookie Monster all chime in as background singers.
The "Just the Way You Are" singer wasn't always been a picture perfect role model.
Mars, whose real name is Peter Gene Hernández, was caught red handed last September and busted for cocaine possession at the Hard Rock Hotel and Casino in Las Vegas.
He plead guilty to the charge in February and was fined $2,000 as well as assigned community service hours and drug counseling in Los Angeles.
Looking back on the incident now, the singer reflects on what to do:
"I've learned people are watching," Mars told GQ. "So don't do nothing stupid."
You can reach Alexandra Gratereaux at: Alexandra.Gratereaux@foxnewslatino.com or via Twitter: @GalexLatino
Follow us on twitter.com/foxnewslatino
Like us at facebook.com/foxnewslatino