Broadway musical 'Hamilton' generated more than 1M tweets this year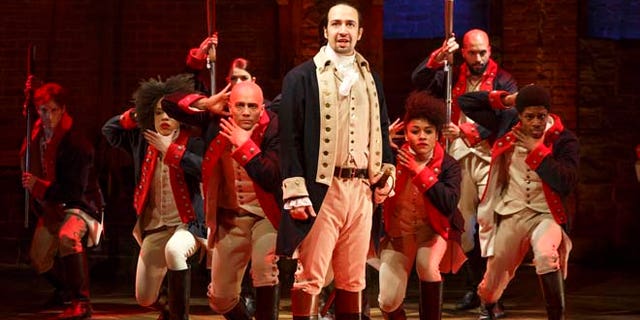 NEW YORK (AP) – Another milestone has fallen thanks to the Broadway musical "Hamilton" — this time on Twitter.
The social media website said Tuesday there have been over 1 million tweets about the hip-hop show featuring the life of the nation's first treasury secretary.
The sheer number of tweets was fueled by a young tech-savvy cast and audience and its cross-over popularity in hip-hop circles, as well as fresh material in the form of impromptu video performances that occur periodically on the front steps of the Richard Rodgers Theatre, the Broadway home of "Hamilton."
By comparison, there were 266,000 tweets about the current Tony-winning best new musical "Fun Home" and Nielsen data found there were 323,000 tweets about the Tony Awards during this year's telecast.
Written by "In the Heights" Tony-winning creator Lin-Manuel Miranda, the musical tells the true story of Alexander Hamilton, and is told by a young African-American and Latino cast.
It's got a terrifically varied score, ranging from pop ballads to sexy R&B to rap battles, with lyrical nods to Gilbert and Sullivan, Jason Robert Brown, "South Pacific" and the Notorious B.I.G.
Twitter said the show reached a million tweets thanks to users using the groupings #HamiltonMusical, @HamiltonMusical, #Ham4Ham, #Hamiltunes and @Lin_Manuel.
"Hamilton" was a sold-out sensation earlier this year when it debuted at the Public Theater, with people paying well over 10 times the $120 ticket price and a crush of fans seeking lottery tickets.
Celebrities like Tom Hanks, Dick Cheney and Madonna showed up. When it transferred to Broadway, it had a war chest of $31 million and President Barack Obama came to see it.
The show, which regularly pulls in $1.5 million a week to sold-out audiences, has won awards from the Outer Critics Circle, the New York Drama Critics' Circle and the Drama Desk, and it is a likely candidate for Tony Awards this summer. The show's cast album became the highest debuting cast recording on the Billboard Top 200 in over 50 years.
Miranda's followers have grown, too, over the year, thanks to his accessibility, humor, wide-ranging interests and sense of fun. He had 50,000 followers last year. Now he has 162,000.