Britt McHenry feuds with Paige Spiranac over '#MeToo,' Sports Illustrated Swimsuit issue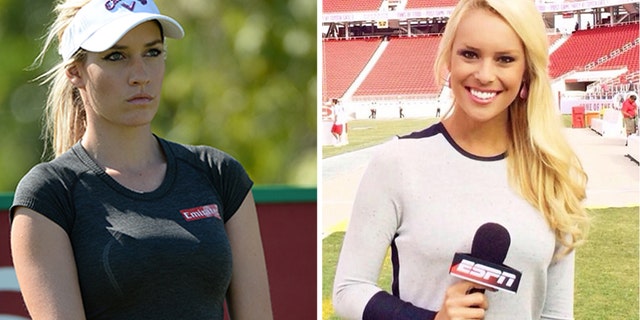 It simply wouldn't be a Sports Illustrated Swimsuit edition without a touch of controversy. Hours after the organization unveiled its models for 2018, ESPN reporter Britt McHenry sounded off on the publication for what she believes is an outdated tradition in the "#MeToo" era.
"Why does a woman have to pose nude to feel 'empowered'? Isn't it more empowering to keep your clothes on, go into an office or classroom like everyone else and excel? #SISwimSuit desperately wanting to compete with IG models with gimmicks," she tweeted Tuesday morning.
"For men to respect women more, maybe women shouldn't take all their clothes off in the guise of pushing #metoo," she continued. "And that goes for men too. I'm not going to take a man more seriously because he strips down and writes words on himself. He might be great to look at, and that's fine, but come on now...it's not activism."
Not long after McHenry's musings on the Sports Illustrated Swimsuit Issue, professional golfer and SI Swimsuit newbie Paige Spiranac responded with some tweets of her own.
"Different women feel empowered in different ways and it's not right to tell someone what they can and cannot do. It's more about the person you are and not the clothes you decide or not decide to wear. My body, my choice," she wrote. "I've been around a lot of mean girls and I'll tell you I've never been more welcomed and accepted before than I have by the SI models and team. They are rays of sunshine and some of the most beautiful women, inside and out, I've ever met."
The shade prompted McHenry to respond, kicking off a back-and-forth between the two.
"I agree it's your body to do what you want. But posing nude is a way to ascertain empowerment through vanity. I don't think, and this goes for both genders, it's the best way to receive reciprocal respect or empowerment. Just my opinion though."
Spiranac jabbed back, responding with a follow up tweet that simply read, "Thanks I will" over a nude image of her posing for the issue. With that, the gloves were off and McHenry went after her in a final tweet on the matter.
"OK, but you've literally cried at press conferences about how you're not taken seriously in gold. Anyone can post naked, and yet this is your response to a civil discussion. You're both beautiful... and attention-seeking."