Breastfeeding model recalls walking the Sports Illustrated Swimsuit runway: 'It felt natural'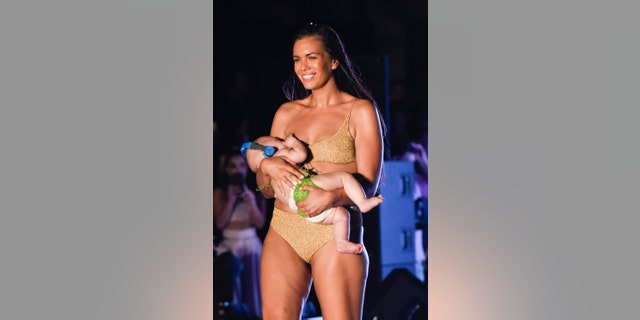 NEWYou can now listen to Fox News articles!
Mara Martin made major waves in Miami when she hit the 2018 Sports Illustrated Swim Search runway show breastfeeding her five-month-old daughter Aria.
The up-and-coming model, dressed in a gold one-shoulder bikini, hit the catwalk earlier this month as part of the competition to discover the next big star for the coveted magazine. The new mom was chosen as one of the 16 finalists for the fashion show.
Martin spoke to Fox News about what it was really like strutting her stuff, how she's handling the criticism, as well as the special message she has for Sports Illustrated Swimsuit cover girl (and mom to be) Kate Upton.
Fox News: We often don't see a model breastfeeding their child on the runway. What happened?
Mara Martin: Well, I would have to take you back to the beginning. There was a Sports Illustrated casting call. I'm a new mom, a stay-at-home mom. And my fiancé works full time. So I just took her with me because this has been a dream of mine for a very long time. And SI was OK with me taking my daughter.
She was part of the whole process… And everyone got to know her. And then they asked me if I wanted to walk down the runway with her, as part of a mommy and daughter look… She was dressed and happy to go.
However, the show kept getting pushed back. So she became really, really hungry. I started feeding her, like I usually do… No one really said anything, but the editor saw what was going on. She came over to me and said, 'You know Mara, if you want to continue feeding her and walk on the runway, I fully support it. But if she's done and you don't want to bring her, you can always give her to your fiancé – whatever you feel comfortable with. We support you.' I just kept feeding her and it was my turn to go, so I just took her out there.
Fox News: Why did you choose to walk down the runway while breastfeeding your baby?
Martin: It was never about making an impression with her. The best thing about Sports Illustrated is that they celebrate all different types of women and they want you to be exactly who you are. It just so happens that at this time in my life I'm a mother. That is my first and foremost priority in life. And they celebrate that.
So it was never a ploy to use her to get attention. This is a part of my life right now. And breastfeeding is a natural thing for me. I do it every day and I did it around them multiple times throughout the casting process. So it wasn't even a thought. This is something I've been doing for five months. It felt natural.
Fox News: What was the immediate reaction when you walked down the runway?
Martin: When I went out on the runway, the crowd just went wild. And I didn't know anybody, just my fiancé. They were cheering, taking their phones out, calling out my name – it was just an exciting feeling. And the fact that I got to share that moment with my daughter made it all the more wonderful.
Fox News: It's been reported your daughter kept you calm. Can you tell us more about that?
Martin: Multiple times I broke down in tears and cried because I was just so overwhelmed with emotions. This was a lifelong dream of mine. I was so emotional throughout the whole process. And then to walk down the runway?
I've never done a big runway show before and we're doing it for SI. And having her there and doing something that I do with her every day like breastfeeding just further created this special bond between mother and daughter.
Throughout that process, there was a sense of peace and calm. Just to see her face alone was almost helpful *laughs*… Right before the show, with all the chaos that was going on, it was like a breath of fresh air having her there with me.
Fox News: Tell us about the next day. What was going through your mind?
Martin: It felt like a normal day at first. The next day we went home to Key Largo. My fiancé went to work and I stayed at home with the baby. I don't really check my phone because I'm so busy changing diapers and just being a mom *laughs*.
So I didn't really notice anything until lunchtime. I remember calling my fiancé at work and telling him, 'Oh my gosh, I think this is really big. Can you check online?' We were both just like, 'Wait, what's going on?' I really didn't have any expectations of this.
Fox News: While many people have praised your appearance, others have slammed it. How do you cope with the criticism?
Martin: I haven't had the chance to really see the criticism or respond to anything yet. But I just think as people, in general, we all have a right to our own opinions. And it's OK if you don't want to agree with me or what I do.
The only thing I ask is for people to stay positive and don't get too mean. It's unnecessary. It was a positive experience for me.
Fox News: Were you surprised that Sports Illustrated openly embraced both you and your baby?
Martin: No, actually. [Editor] MJ Day and the entire staff – they just celebrate and embrace women of different shapes, different sizes and different backgrounds – they just support women for who they are.
Fox News: Do you think we'll ever see a mother breastfeeding on the pages of Sports Illustrated Swimsuit?
Martin: I'm not sure, but I totally support normalizing breastfeeding in general… I do hope that normalization does happen because it's really a natural thing. Whether or not women choose to breastfeed, that's their choice. But we should be able to choose when we want to do it and how.
Fox News: What would it mean for you to be on the pages of Sports Illustrated?
Martin: … It feels great to be the face of normalizing breastfeeding around the world, but really I just want to be in the magazine *laughs*. This is what we went for to begin with. This has been a lifelong dream of mine to be in the pages of the magazine. I just hope we can continue the competition.
I'm excited to see what the next step would be. But it would mean a lot to me just to continue because this has really been my ultimate dream… But I have already told SI my daughter is my first priority. If she's good to go, then I'm good to go. I'm always going to think of her first.
Fox News: Did you get a chance to meet Kate Upton during the fashion show?
Martin: I got to see her in passing and I was just so in awe of her beauty. Just the fact that she was in the same room as me? I was just too nervous to say anything. But if she does read this, congratulations! If you need help with mommy tips, I'm your girl to call.
Fox News: How's your daughter handling all of the attention?
Martin: Honestly? She's loving this. It's almost like she loves the camera *laughs*. I wish she would have been awake for it and not eating. Because if she would have been awake, she would have been loving the attention. She's always smiling at the cameras and can tell where they are. I think that would have been a cuter photo!