'Big Bang Theory' recap: A most unlikely romance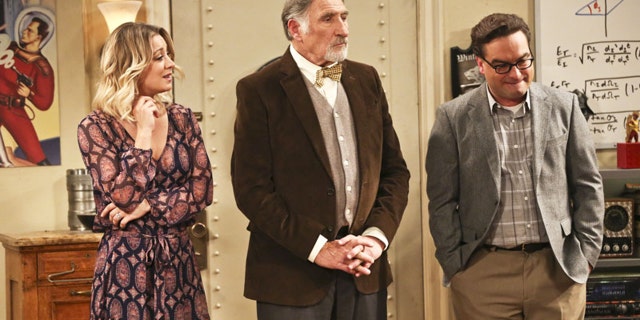 NEWYou can now listen to Fox News articles!
Season nine of "The Big Bang Theory" concluded with a most unlikely romantic twist.
It wasn't just Leonard and Penny feeling amorous at their vow renewal ceremony — Leonard's single dad, Dr. Alfred Hofstadter (Judd Hirsch) and Sheldon's holy and unattached mom, Mary Cooper (Laurie Metcalf), appeared to end up in the same hotel room before the final credits rolled.
Penny had promised Leonard's mom, Beverly (Christine Baranski), that the couple would stage a do-over of their wedding since she wasn't invited the first time around.
Woo Hoo! Everyone is excited for the big day. Sheldon has already sent out invitations to Stephen Hawking, Robert Downey, Jr. and the guy who invented the Rubik's Cube.
And even though it not a "real wedding," Amy insists on being the fake Maid of Honor.
When Leonard picks up his mother, she becomes furious at the news that he has invited Alfred without her permission. Apparently, he cheated on her, leading to their divorce.
Leonard deposits his mother at the frigid apartment, where she struggles to make small talk with Sheldon's mom.
Meanwhile, Howard has just received an email from the United States Air Force requesting a meeting to talk about the new Quantum Vortex Apparatus he has created with Raj. He fears the military will try to take over the whole project.
"You know what happens if we object?" he asks. "We disappear. Off the map. Like every American Idol winner since season four."
When Leonard and his dad finally arrive at the apartment, everyone is gathered on the couch in silence. "Hello, my hateful shrew," he says to Beverly.
And with that, the gang all head out to "the best restaurant in town" for dinner.
Leonard, Penny and Beverly hop in one car while Sheldon, Amy, Alfred and Mary ride in the other.
Sparks quickly begin to fly as Alfred and Mary bond over talk of apocalyptic floods and the unerring word of God. He's an agnostic but admits praying many times that God will "turn my ex-wife into a pillar of salt."
"He came close," Mary jokes. "He turned her into a giant block of ice."
Amy is the first to sense the connection. All Sheldon notices is that the pair are filling up on bread and ruining their meal.
Meanwhile, Howard and Raj continue to contemplate how to respond to the Air Force email, and are now growing nervous that the government may be monitoring them — or worse!
When Penny pulls up behind them in traffic, they don't recognize her and think they are being followed. Howard ends up getting pulled over by the cops while trying to move away.
Back at the restaurant, tempers begin to flare as Alfred and Beverly trade insults. He decides to leave early and offers to share a cab back to the hotel with Mary.
What's going on?
"I think it is obvious," Sheldon says. "They don't want dessert because they filled up on bread!"