Bella Hadid seemingly responds to body shamers on social media: 'All body types are different'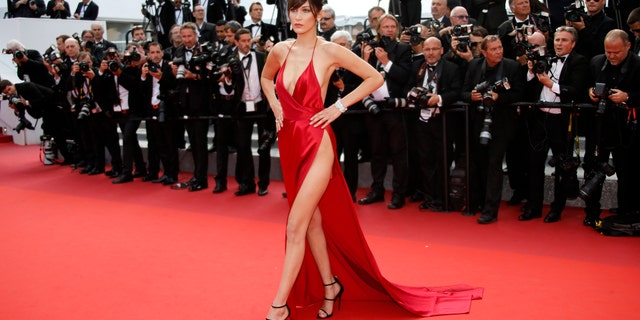 NEWYou can now listen to Fox News articles!
Bella Hadid has seemingly responded to body shamers who were commenting on her slim figure.
On Monday, the 22-year-old model took to Instagram to confirm that she was walking in this year's Victoria's Secret Fashion Show with a series of photos of herself in a black bra and underwear set paired with knee-high snakeskin boots.
"@victoriassecret fittings today💛i can't wait for you to see all of the beautiful outfits ...i'm so grateful to be a part of the show again, feeling happier and healthier than ever🖤 (all body types are different and react differently to a great workout routine and a healthy diet❤️💪🏼🌟)," Hadid captioned the pictures.
However, many social media users were focused on the supermodel's appearance.
"Skin and bone. That second page is quite frankly disturbing," one person wrote.
"I have nothing against being slim but this is unhealthy on so many levels. Shame on @victoriassecret for encouraging and promoting this totally unrealistic image. We must put an end to the concept of looks = value."
Another Instagram user commented: "I will never understand why bones protruding through skin is considered beautiful."
"You're literally just bones, stop promoting this, it's unhealthy, you're supposed to be a role model - act like one," another social media user wrote.
One concerned fan noted that she thinks Hadid "is gorgeous, but she does look a bit boney these photos."
BELLA HADID RESPONDS TO INSTAGRAM CRITIC WHO SLAMMED HER IN COMMENTS SECTION
"And I worry how this will impact some women with body issues," the fan concluded.
According to Yahoo Entertainment, Hadid didn't reply to the commenters directly, but she did edit her original caption to include the phrase: "All body types are different and react differently to a great workout routine and a healthy diet."
This isn't the first time Hadid has shut down social media critics.
Back in April, Hadid responded to an Instagram user who reportedly called her and pal Kendall Jenner "2 fake b--ches" while leaving a since-deleted comment on a fan account in April, E! reported.
The user wrote, "Money can get you a new face but not a nicer personality which these two girls need."
Hadid fired back, "I wish you would know either of our personalities. And not only that, I wish you would only grasp a heart of your own."
For the most part though, the supermodel says she's learned to ignore critics.
BELLA HADID SHUTS DOWN PLASTIC SURGERY, LIP INJECTION RUMORS: 'DO A SCAN OF MY FACE'
"It's taken me a long time to learn not to listen," Hadid explained to InStyle in May. "I turn my phone off and remember that the people around me are the only ones whose opinions I really care about."
"Why would I read those comments? They are usually coming more for my character than for my face, which is more hurtful."
Fox News' Zoe Szathmary contributed to this report.