Barbie's Malibu Dream House Comes to Life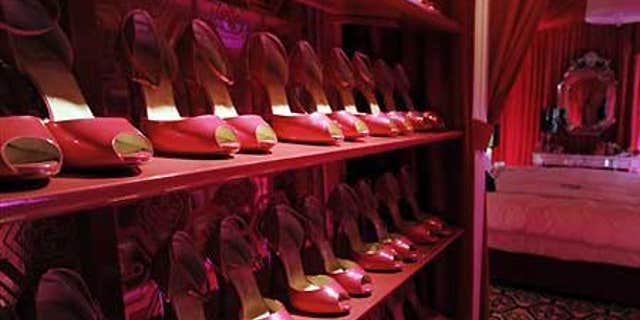 NEWYou can now listen to Fox News articles!
MALIBU, California – Barbie's Malibu Dream House is coming true.
On the eve of her 50th birthday, interior decorator Jonathan Adler has decked out a real-life 3,500 square foot place overlooking the Pacific Ocean to look like the blond doll's outrageous home.
Adler, who was commissioned by toy maker Mattel Inc. to decorate the house for a star-studded birthday party on Monday, said outfitting the sleek mansion (a property that's frequently rented for film and photography shoots) took six months of planning and a few weeks to install.
"Barbie was a dream client because she doesn't exist as a person," Adler said. "She exists as fantasy and is the perfect client because she's always happy and fun and loves everything. I thought to myself, 'How would Barbie live?' What I thought was (that) Barbie would have a house that is glamorous, kittenish, chic, colorful and happy — as well as functional."
Adler lined Barbie's bedroom with wall-to-wall pink carpeting emblazoned with her initial. The closet is filled with 50 pairs of pink peep-toe heels while her kitchen is stocked with cupcake-making ingredients. An in-house museum features 25 vintage Barbie dolls on display. In the garage? A pink Volkswagen New Beetle with a motorized pop-up vanity in the trunk.
"I think this really is Barbie's Malibu Dream House because the setting is so incredibly dreamy and ethereal," Adler said. "We're perched on a cliff in Malibu overlooking the ocean. It's a fantasyland for anyone. It was difficult to find the house to celebrate Barbie's 50th birthday because it had to be the ultimate Malibu house, and I think we found it."
Following the festivities, most of Barbie's custom decor will be shipped to the Palms Casino Resort in Las Vegas to furnish a special pink-tinted Barbie Suite that will be available for bachelorette parties, birthdays or anyone who wants to live like Barbie. Other items will be available from the "Jonathan Adler Loves Barbie" collection launching in September.
Adler's favorite furnishings are hanging in the living room: an original Andy Warhol portrait of Barbie valued at over $200,000 and a chandelier — designed by "Project Runway" contestant Chris March — that's made up of over 30 blond wigs and took more than 60 hours to craft. Adler also admires a one-of-a-kind black-and-white wall mirror created with 64 dolls.
So where's Ken?
"Ken's around, but does she need Ken?" said Adler. "No."