Autumn Reeser comments on rumors plaguing 'The Arrangement,' reveals whether fans can expect an 'O.C.' reboot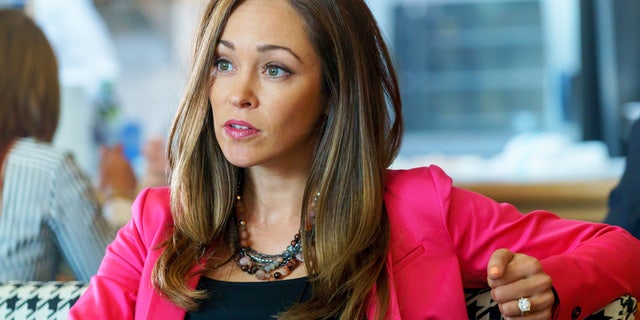 NEWYou can now listen to Fox News articles!
When Autumn Reeser was asked to play Leslie Bellcamp, a no-nonsense Hollywood agent who refuses to slow down despite being heavily pregnant, she jumped at the chance.
"I thought the contrast between a woman who's very aggressively pursuing her career in this hyper-masculine world and was simultaneously eight months pregnant was a really fun contrast for me to play," explained the 36-year-old actress on her new role for E!'s "The Arrangement."
FOLLOW US ON FACEBOOK FOR MORE FOX ENTERTAINMENT NEWS
"It was fun," she told us. "It says a lot about who she is as a character and as a woman."
The new scripted series follows a young actress name Megan Morrison (Christine Evangelista), who auditions for a major summer movie alongside top Hollywood action movie star Kyle West (Josh Henderson). When Megan's audition leads to a first date with Kyle, she's then presented with a marriage contract created by Terence (Michael Vartan), Kyle's mentor and leader of the Institute for the Higher Mind.
LEAH REMINI SAYS TOM CRUISE COULD 'SINGLE-HANDEDLY' END SCIENTOLOGY
The upcoming series has since stirred headlines for reportedly being inspired by Scientology and Tom Cruise's marriage to Katie Holmes, but the cast has since dismissed those claims. Reeser said the show has a different message that many people can easily identify with.
"What I can say is that I think ['The Arrangement'] is exploring what is that line between truth and what people want you to believe is true," she said. "Those can be two different things and I think we see that in social media all the time. It's a huge thing right now. I think this is something that affects people's lives. Like, what are you putting out there to the world? Are you really putting out what's going on in your life or are you putting out a fake version of your life to be consumed? And that's the playing field we're on in the show."
She added, "This is something everyone is dealing with in their own lives. Everyone."
The show also helped Reeser discover something new, and it had nothing to do with the controversial religion.
FOLLOW US ON FACEBOOK FOR MORE FOX ENTERTAINMENT NEWS
"This woman [Leslie Bellcamp] is not afraid of what other people think of her and is extremely assertive," she said. "I'm not great with conflict in my own life, [but] you always learn something from the character when you are forced to stretch yourself in that way. I'm actually more comfortable with conflict now after playing this character."
Reeser reminisced about another exciting time in her career. She previously starred in the popular teen drama "The O.C.", which ran from 2003 to 2007.
"I think the writing on 'The O.C.' was really, really smart," said Reeser, explaining why fans are still fascinated with the show even though it ended 10 years ago. "And it was different for that time. I think for my character, she was awkward and didn't fit in, but was fully OK with who she was as a person, and to be able to put all those things in this character is what resonates with people."
'THE O.C.' CANCELLED DUE TO LOW RATINGS
Reeser said that she still sees her former castmates "every now and then," but fans shouldn't hold their breath for a reboot anytime soon, as some classic sitcoms have experienced with the help of Netflix.
"I don't think it's likely, but I would certainly be open to it if it happens," she said.
"The Arrangement" debuts March 5 on E!.