Ashton Kutcher reveals his receding hairline to Conan O'Brien: 'I'm experiencing the hair loss'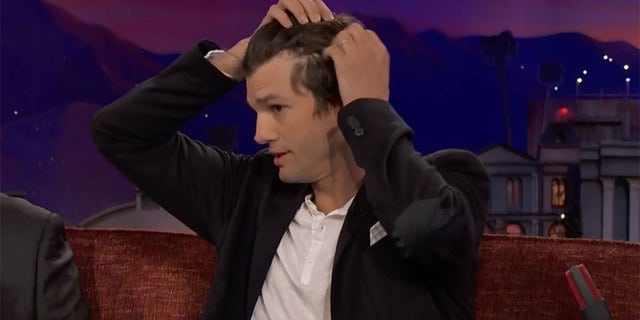 NEWYou can now listen to Fox News articles!
Ashton Kutcher is happy he still has those trucker hats!
The 40-year-old actor revealed his hair's fate on Monday night's episode of "Conan" after host Conan O'Brien complimented him on his seemingly luscious locks. That's when Kutcher admitted that his looks can be a little deceiving.
MILA KUNIS AND ASHTON KUTCHER SHOW THEIR TEAM SPIRIT
"It's going a little bit, though. I'm losing it," he said of his hair, while revealing his receding hairline. "When I was, like, 25 I realized it was starting to go so I went and met the hair guy doctor and he put me on this medication called Avodart."
Kutcher told O'Brien that he got good results from the medicine, but had to stop taking it when he and his wife, Mila Kunis, decided they wanted kids.
MILA KUNIS AND ASHTON KUTCHER ENJOY DATE NIGHT AT U2 CONCERT
"So, I've been holding on to the hair pretty good, but when we decided that we were going to have children I didn't know [if it] was it safe to take when you're trying to have a baby," the "Ranch" star explained. "So I stopped taking the stuff about three years ago and now I'm experiencing the hair loss. It's starting to go."
The father of two does have a foolproof plan for his impending hair loss. "I'm a baseball cap guy, so I think I'm OK. I've established myself as a baseball-cap-wearing individual," he quipped. "When it does go, you're not going to know that it's gone because I'm just going to have the ball cap on."
ELLEN DEGENERES GETS EMOTIONAL AFTER ASHTON KUTCHER SURPRISES HER WITH $4 MILLION DONATION TO WILDLIFE FUND
As for whether he'd ever consider getting fake hair, Kutcher vowed, "No I'm no toupee. I'll just let it go. When it goes, I'll go, like, character actor or something."
Kutcher and Kunis met when they co-starred on "That's 70 Show," and back in April, the 34-year-old actress exclusively discussed with ET's Nischelle Turner whether a revival would ever be in the cards for the cast.
"You know, maybe?" she shared. "I can't say 'no,' because we're all still very good friends, but we're all in such different places in our lives."