Ariel Winter's mom files charges against star's boyfriend, says she didn't abuse the 'Modern Family' teen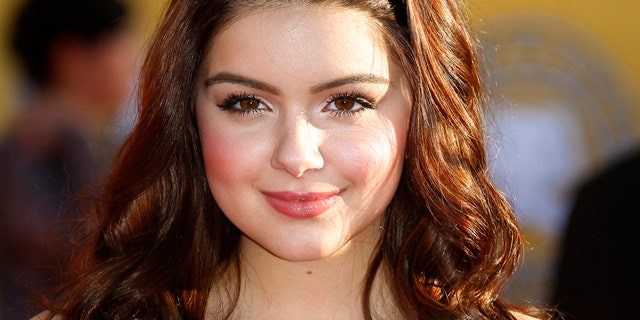 NEW YORK – The mother of "Modern Family" star Ariel Winter insists allegations she abused her daughter are completely false and that her family drama stems from her minor 14 year old's relationship with her adult boyfriend.
Chrystal Workman released a statement to Access Hollywood, explaining the controversy began when she tried to put an end to Winter's relationship with the 18-year-old man.
"I caught them engaging in behavior that I feel my daughter is too young mentally and physically to understand and fully grasp I put a stop to it immediately," her statement read. "Being a teenager 'in love' I thought she would cry and sulk and eventually her broken heart would heal. I would have never [have] dreamed, that she would take it to this level."
Workman goes on to announce that she has filed charges against the unnamed boyfriend, stating: "He is an adult and if he wants to engage in adult behavior with a minor [then] he should also be ready to suffer adult consequences for his actions and poor judgment."
However, celebrity gossip site TMZ points out that Workman only filed the charges with the Los Angeles County Sheriff's Department five days after she lost custody of the actress, which happened at an Oct. 3 hearing. Workman was also ordered to keep 100 yards away from Winter by the court.
Winter is currently in the care of her older sister, Shanelle Gray, who claims to have suffered similar abuse by their mother, though their mom claims the 34-year-old only came "out of the woodwork" once the "Modern Family" cast got substantial raises.
Gray's attorney told the Associated Press his client has no interest in Winter's finances.
"There's no truth whatsoever to Shanelle obtaining this guardianship for purposes of advancing her career or for some other personal gain," attorney Michael Kretzmer said. "Shanelle is successful and has done very well in her own rights. This is a tragedy for her, too."
But Winter's mother won't be giving up without a fight. She has filed court documents objecting to the actress being placed in a guardianship.
Workman's filing states she would be willing to undergo joint counseling if it helped her regain custody.
Winter's brother Jimmy is siding with their mom on this one, telling Us Weekly that no abuse has occurred.
"This is a mother who does everything for her kids," Jimmy told the magazine. "Chris misses Ariel and wants her to come home."
Winter plays the smart, quirky teen Alex Dunphy on the ABC Emmy-winning comedy.
The young actress' rep refused to comment on the situation, and Chrystal's representative did not immediately return FOX 411's request for comment.
The Associated Press contributed to this report.