Aretha Franklin's funeral attended by Bill and Hillary Clinton, Ariana Grande and Faith Hill perform
Aretha Franklin's golden casket was officially closed on Friday morning as friends and family members gathered around to say their goodbyes to The Queen of Soul.
Dignitaries and celebrities alike filled Detroit's Greater Grace Temple Friday morning in a funeral that was fit for the "Queen of Soul," the late Aretha Franklin.
Bill Clinton, Hillary Clinton, Tyler Perry, Whoppi Goldberg, Stevie Wonder, the Rev. Al Sharpton, Faith Hill, T.D. Jakes, Jennifer Holliday, Jesse Jackson, Omarosa Manigault Newman, Rep. Maxine Waters, Detroit Mayor Mike Duggan were all spotted.
The church's choir sang Franklin's "Say a Little Prayer" and her version of "Bridge Over Troubled Water" as the mourners arrived.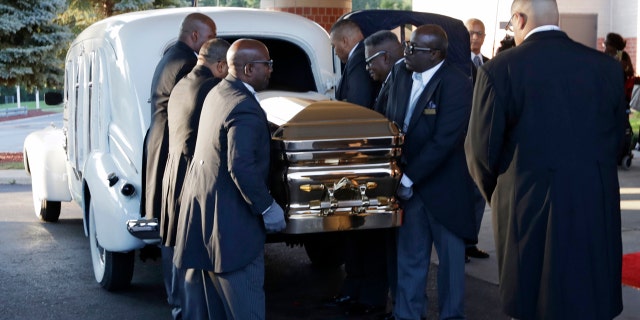 ARETHA FRANKLIN, 'QUEEN OF SOUL,' DEAD AT 76
When the diva's family arrived, the song was "You Are The Source of My Strength."They filed past and paid their respects at Franklin's open casket, where they saw her wearing a sparkling full-length gold dress with sequined heels — her fourth and final outfit of the week.
Many in the pews ignored repeated calls of no phones permitted as people partook in taking selfies with attendees such as former President Bill Clinton and Hillary Rodham Clinton as they filed in.
Ariana Grande, who was spotted inside the chapel with her fiance Pete Davidson, was also snapped taking selfies with Hillary Clinton and embracing the former presidential candidate.
Floral arrangements from such singers as Barbra Streisand and Tony Bennett and from the family of Otis Redding were set up in a hallway outside the sanctuary.Other bouquets were sent from the Jackson family, the Dance Theater of Harlem, the Whispers, Atlantic Records, Elton John, Mariah Carey, Ray Charles, Tom Joyner, the Rock and Roll Hall of Fame, Don King, and Diana Ross.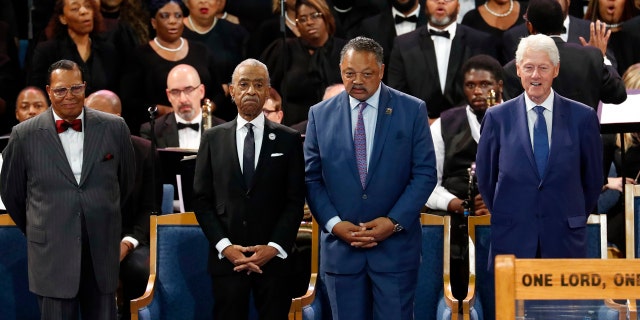 ARETHA FRANKLIN MOURNERS FLOCK TO DETROIT MUSEUM FOR PUBLIC VIEWING
Tim McGraw's wife, singer Faith Hill, kicked off the service's star-studded set list with a vibrant performance of "What a Friend We Have in Jesus" that brought the audience to their feet during the song.
Following Hill, the Detroit city mayor, Mike Duggan, spoke on behalf of Franklin and touched upon how the singer's iconic legacy defined and the Michigan town.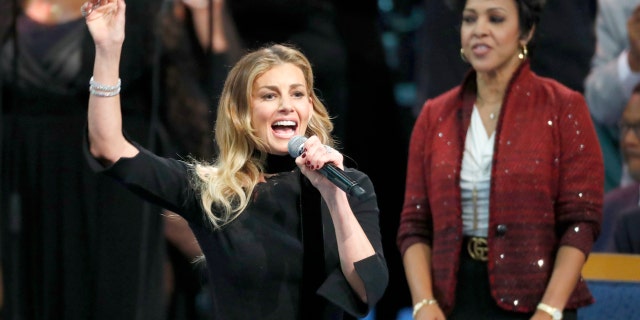 Ariana Grande was next to perform with her moving rendition of Franklin's "Natural Woman," which the singer performed on "The Tonight Show with Jimmy Fallon" the day of the singer's death.
Rev. Al Sharpton then gave a moving speech and recalled Franklin's activist side, noting she raised money for the Rev. Martin Luther King Jr. and created "the soundtrack of the civil rights movement."
"She gave us pride. She gave us a regal bar to reach," Sharpton said. "She represented the best in our community. "Sharpton also took a swipe at President Donald Trump for saying that Franklin once worked for him. "She performed for you," he said. "She worked for us."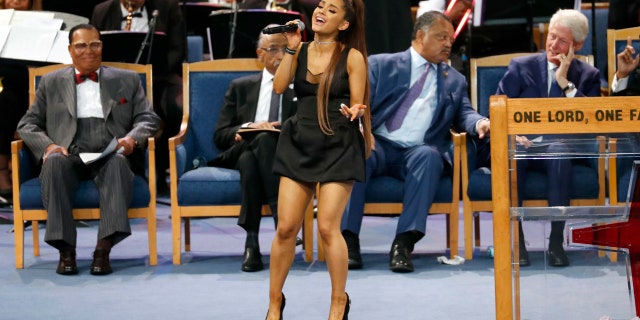 Motown legend Smokey Robinson followed with a powerful eulogy that turned into song. The singer, which said his friend was "a black woman in a white's man world," serenaded the Queen while at the podium and blew a kiss to her casket before leaving the stand.
Later on in the program, former President Bill Clinton paid tribute to the iconic singer. After talking about her unique talent, Clinton made a joke about Franklin's golden ensemble and said that those above better watch out for the stylish diva's arrival. He concluded his speech by taking out his iPhone and playing a Franklin tune, exciting the audience.
The street outside Greater Grace was filled Friday morning with pink Cadillacs — a nod to Franklin's funky '80s tune, "Freeway of Love," which prominently featured the car in the lyrics and video. Her casket was carried to the church in a 1940 Cadillac LaSalle hearse that also took Franklin's father, legendary minister C.L. Franklin, and civil rights pioneer Rosa Parks to their final resting places at Woodlawn Cemetery, where the singer will join them.
Hundreds of fans lined up near the venue before dawn for an opportunity to get in to get into the funeral.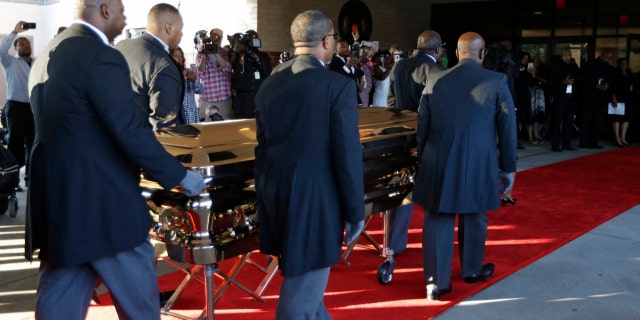 Bishop Charles Ellis III of Greater Grace knows well of the boldface guest list and surrounding pomp and circumstance, but he has a higher mission in mind for the service that may well exceed five hours.
"It is my goal and my aim to ensure that people leave here with some kind of spiritual awakening," Ellis said. "This is not a concert, this is not a show, this is not an awards production. This is a real life that has been lived, that a person regardless of how famous she became no matter how many people she touched around the world, she still could not escape death. And hopefully, a lot of people here with money and fame and influence and friends and notoriety and wealth, hopefully they will think of their mortality and say there is something bigger than fame, there is something bigger than Hollywood, something bigger than being a recording artist and selling gold albums or what have you."
Of course, some get-down and lift-up need not be mutually exclusive.
"I really believe that this ... is going to be an eye-opening experience for everybody in the world watching," said gospel artist Marvin Sapp, also among the scheduled performers. "We really celebrate because we really recognize that those we call the dearly departed, they wouldn't want for us to cry and be sad and sorrowful. But they would want us to celebrate their lives because they transitioned from this life to a better one."
ARETHA FRANKLIN REMEMBERED AS 'QUEEN OF SOUL' WITH 'SPECIAL GIFTS'
Sabrina Owens, Franklin's niece, told the AP she started putting thoughts to paper about events earlier this year as her aunt's health failed. Since Franklin's Aug. 16 death at 76, Owens said a close group she described as "Aretha's angels" have "worked tirelessly" and have been guided by a single question: "What would Aretha want?"
"After all she gave to the world, I felt we needed to give her an appropriate send-off that would match her legacy," Owens said.
The Associated Press contributed to this report.