Aretha Franklin blasts Dionne Warwick: 'She blatantly lied'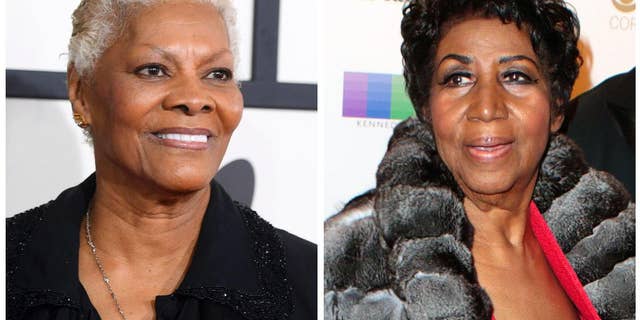 Aretha Franklin is finally ready to open up about that big blowout with fellow singer Dionne Warwick.
Seemingly out of the blue, Franklin contacted the Associated Press to discuss the incident five years ago, which went down at Whitney Houston's funeral and apparently left the singer fuming mad at Warwick.
Franklin sent a fax to the AP this week detailing the drama.
"She blatantly lied on me ... fully well knowing what she was doing," Aretha Franklin told the AP in a phone interview.
In the fax, she claimed Warwick made a "libelous" statement against her made five years ago. At the time, Warwick told funeral-goers that Franklin was there and introduced her, but then realized she wasn't in attendance.
"'Ree's not here, but she is here," Warwick said, referring to Franklin by a nickname. "She loves Whitney as if she were born to her. She is her godmother."
The moment caused some buzz, and Franklin said she was suffering from swollen feet and had to skip the funeral so she could perform later that night at Radio City Music Hall in New York, which she said she was contractually obligated to do.
Though Cissy Houston, Whitney Houston's mother, said in the days afterward that Franklin wasn't Houston's godmother (it was Darlene Love), Franklin felt the comment was damaging to her and planned to address it at a later date.
Five years later, Franklin feels that time is now.
While the story that Houston was Franklin's goddaughter has been part of her story for decades, Franklin said she first met Houston when Houston was a child — and she was far too busy to be anyone's godmother.
Franklin saw Warwick last week at the Tribeca Film Festival's premiere of mentor Clive Davis' documentary, "Clive Davis: The Soundtrack of Our Lives," and she also performed. Franklin said Warwick tried to talk to her backstage.
"She said, 'Give me a hug.' I said, 'Oh hell no. You couldn't be serious,'" Franklin said.
When asked if she wanted an apology from Warwick, she said: "I don't care about her apology, at this point it isn't about an apology, it's about libel."
She added: "We've never been friends and I don't think that Dionne has ever liked me."
Franklin once covered Warwick's hit "Walk on By," and, more famously, "I Say A Little Prayer."
When asked for comment, Warwick's representative Angelo Ellerbee said: "She will not dignify a response to the statement made by Aretha Franklin."
The Associated Press contributed to this report.