Angelina Jolie, Brad Pitt to meet with Pope Francis, report says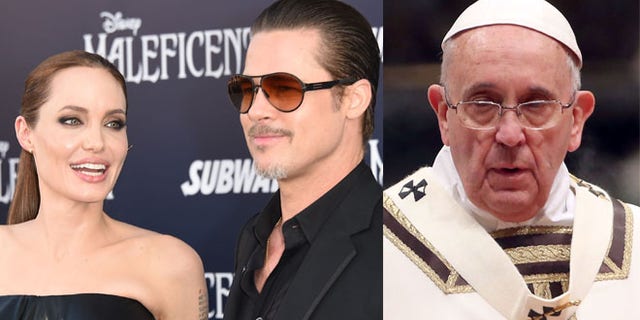 A-listers Brad Pitt and Angelina Jolie are reportedly taking a special trip to Rome this month to meet with Pope Francis.
An insider told Us Weekly the couple is set to fly to Italy in early January for "a VIP meet-and-greet at the Vatican" with the Argentinian pontiff. They have reportedly already sent their head of security to Vatican City.
Although the couple has long considered themselves nonreligious, a source told the magazine that Pitt, 51, and Jolie, 39, have great admiration for Pope Francis and "like the Pope's message."
The "Fury" actor previously stated that he had distanced himself from his Baptist faith and told The Hollywood Reporter in 2012 that he doesn't have "a great relationship with religion."
"I oscillate between agnosticism and atheism," he said.