'American Pickers' star Danielle Colby talks stripping down as a burlesque performer: 'It's part of my life journey'
NEWYou can now listen to Fox News articles!
When Danielle Colby isn't searching for treasures across the country, she happily enjoys one American pastime — and we're not talking baseball.
The 42-year-old stars in the hit History Channel series "American Pickers" by day, but at night she transforms into brunette burlesque beauty Dannie Diesel. As her alter ego, Colby bumps and grinds on stage wearing bejeweled costumes, ending her titillating dance by stripping down to her pasties and not much else.
PHOTOS: 'AMERICAN PICKERS' STARS DANIELLE AND MIKE FRANK
Colby told Fox News she learned about the art of striptease over a decade ago in Chicago, where she saw comedienne Margaret Cho bare all in her variety show "The Sensuous Woman."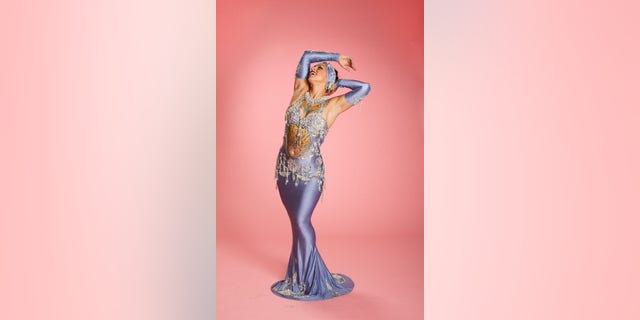 Colby was ready to peel off her own sequined gloves for an eager crowd.
"The interesting thing is I grew up a Jehovah's Witness and I had a very, very strict upbringing," she said. "So burlesque wasn't something that was really around for me. I couldn't be around it. It was new and taboo."
It wouldn't take long for the tattooed temptress to transform from curious viewer to tantalizing performer. Colby credited burlesque for helping her feel more comfortable in her own skin.
VIDEO: REALITY STAR'S DRESS FALLS OFF DURING DANCE NUMBER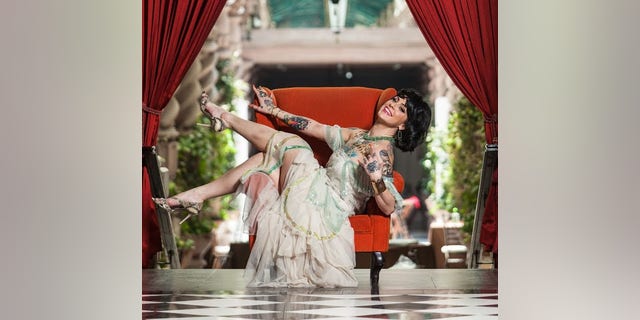 "The burlesque journey has really been an interesting one for me," she explained. "It's part of my life journey, my relationship with my body and my relationship with sexuality. It's deep and it really started from a place of anxiety and depression. It really helped me blossom into a person who is less anxious and less depressed.
"It's taught me a lot about ego, humanity, kindness, sharing. It also taught me a lot about what I don't want to be and what I do want to be."
And Colby is also keeping an American tradition alive. Dustin M. Wax, executive director of The Burlesque Hall of Fame in Las Vegas, told Fox News burlesque goes as far back as the 1800s in the U.S.
'PAWN STARS' GUY GETS INTO BLOODY BRAWL
"Since the mid-19th century, burlesque has been one of America's preferred forms of entertainment, especially among working people and immigrants in America's growing cities," he explained. "Burlesque was more than just a good time – though it certainly was a good time! – it was a way of packaging up all the daily aggravations and humiliations of city life, of working (or not working), of relationships with the opposite sex (or not having relationships with the opposite sex), of money (and not having it), of politics (and being on the losing end of it), and laughing at it. Because in the end, what else could you do?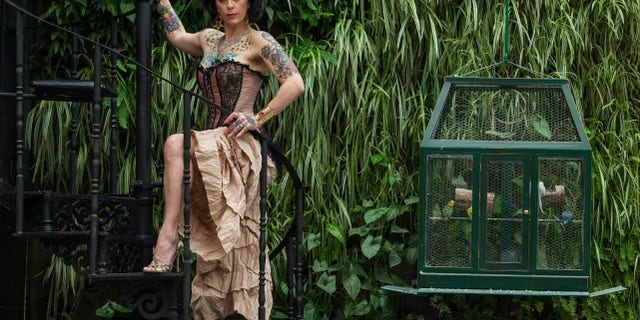 "In its modern form, burlesque has become, along with jazz and baseball, one of the few authentically American art forms. Urban, working class, affordable, and of course, sexy as all get-out, modern burlesque, from the 'hot' variety shows of the early 20th century to the striptease of the 1930s through the 1960s, became one of America's most sought-after forms of entertainment.
Cherry '57 Chevy from History Channel bursts into flames
"Performers like Gypsy Rose Lee, Lili St. Cyr and Sally Rand became household names, not just because they were beautiful and glamorous but because they stood on their own, fiercely independent, both exemplifying the height of the feminine ideal and breaking it at the same time."
When Colby was asked what was the difference between burlesque and stripping, she was quick to answer.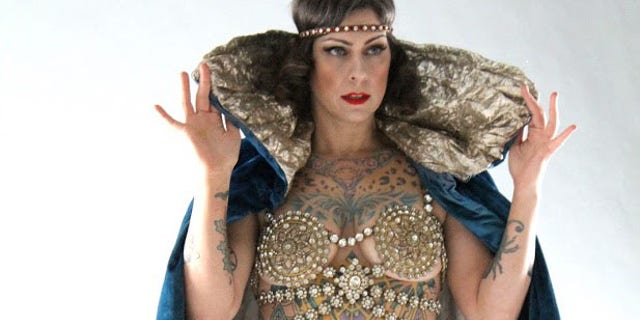 "There's no difference," she said. "I'll tell you what, burlesque is striptease done at its finest, hopefully. And it takes a long time to learn that. I think people who get into burlesque think they're going to be this diva dripping in jewels like Dita Von Teese. They find out very quickly… it's a 24-hour job. You spend all your time preparing costumes, dances. … It's sensual, it touches on all the senses. And you're exploring your body and how your body works."
Colby clarified that while some performers pursue burlesque full-time, she considers it as a passionate hobby of hers.
"I could never be a burlesque queen," she admitted. "It's just not me. I need my outdoors, my comfort. In my childhood, we didn't dress up a whole lot. It was very casual."
Some critics, who've classified burlesque as a sexual form of entertainment, have insisted over the years it's far from empowering women and instead, publicly demeans them. Colby explained that while burlesque may not have initially been recognized as an act of feminism, it has uplifted women over the years in various ways.
"I don't think women did it for feminist purposes," she said. "I think they needed to make money, they happened to be beautiful and they had to be smart enough to learn how to market themselves, invest in themselves. And that's something we can all take away as a gift and a lesson. But today, things are different. I think people are doing it as a feminist rally cry. I know I do.
"I don't perform for men. I don't care if men are in the audience at all. It doesn't matter to me either way. Just be there and be respectful. I really want the women in the audience to feel a kinship. … You should go to a burlesque show and feel invited into the conversation. If you don't, you're in the wrong burlesque show."
But when she's not on stage, Colby is "obsessively" collecting costumes from the past — and she has come across some major gems. The crown jewel of her collection is a 1890s Lillie Langtry original costume from the Follies Bergere in Paris. There's also the banana skirt reportedly owned by Josephine Baker. She also owns bras from April March, coined "the First Lady of Burlesque," for resembling Jackie Kennedy, as well as Blaze Starr's red stockings and Tempest Storm's crystal waterfall earrings.
As for some of her more unusual finds? Colby has plenty.
"When you're dealing with G-strings and pasties, things get really intimate," she chuckled, adding one her surprising discoveries included a costume that came from Mata Hari's dressing room.
And Colby, who continues to entertain in front of cameras and at clubs, said she received plenty of support from her "American Pickers" co-stars over the years.
"Mike [Wolfe] and I have been close friends for a very, very long time," she explained. "He's been to my burlesque shows with his wife. They're wonderful patrons. We support each other. He knows what I do is a nod to historical accuracy. He knows my obsession with burlesque comes from the amazing costumes. And hey, the ladies don't look bad!"
Colby said her goal is to continue perfecting her act, all while preserving treasures from the past that can continue to inspire other women, just like it has done for her.
"It would be a shame if this history featuring all of these strong, talented, amazing women were lost because of the shame of being a striptease artist," she said. "Because there's no shame in that. It's a beautiful art. And these women really paved the way for glamour today. They still are."