'American Idol' Judges Split Over Beauty Queen Named Stormi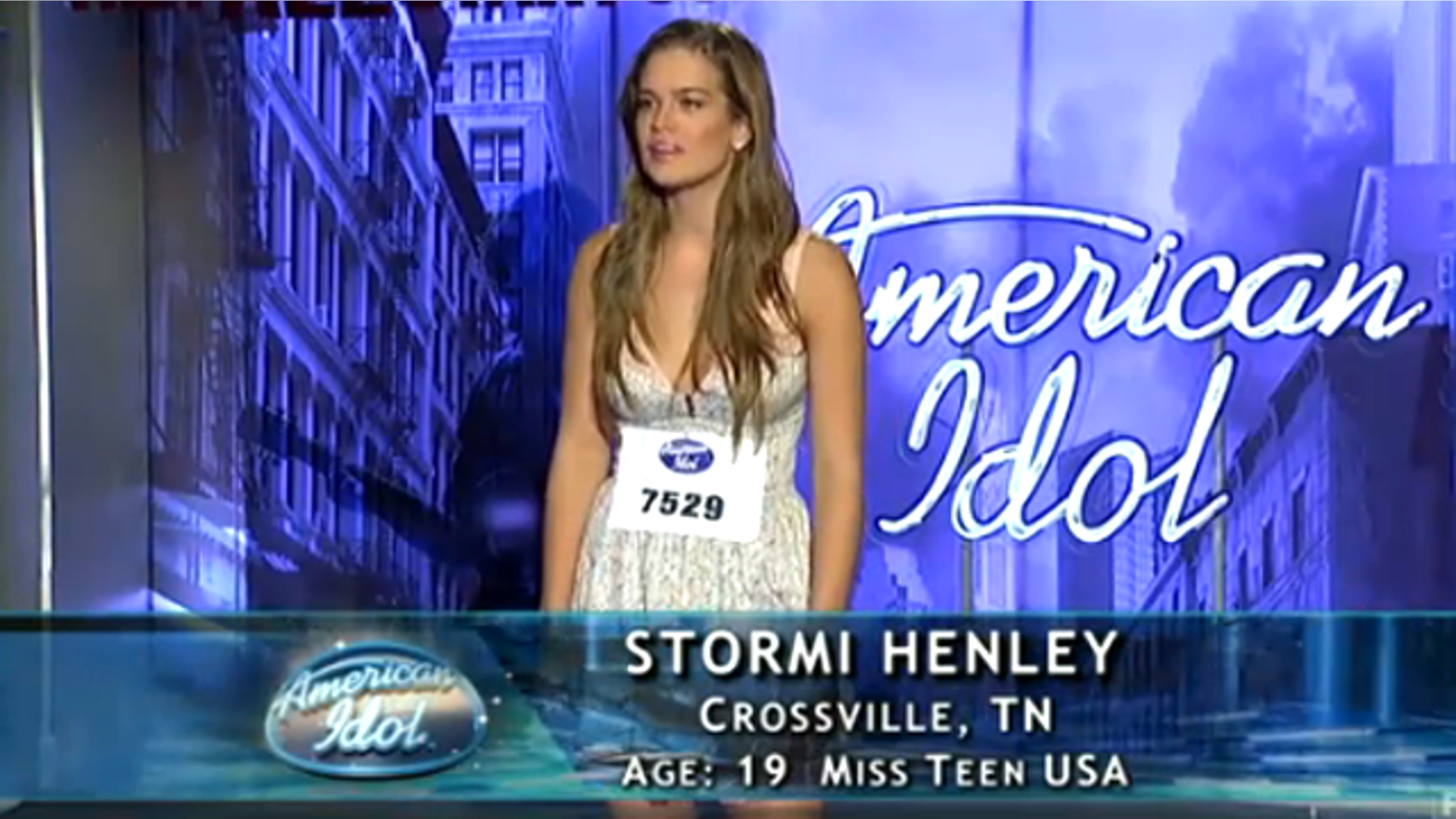 Call her "American Eye Candy"?
A real-life beauty queen put her talent to the test in Thursday night's Nashville auditions episode of "American Idol." And not only is she a former Miss Teen USA who looks like a supermodel, but her name is Stormi.
Seriously.
"It's on my birth certificate," she told a dubious Jennifer Lopez.
OK then.
And while Stormi Henley said she was not required to demonstrate any "talent" in the Miss Teen USA competition, she actually was kind of talented.
"You've got a beautiful, tight, squeaky little voice," Steven Tyler said.
But J-Lo suspected that the guys were a little bit … distracted.
"I think you're gorgeous … the voice isn't strong enough for me. I'm gonna say no," she weighed in.
However, Randy got the deciding vote … and earned a big "thank you" from America's heterosexual males.
"Seriously you two?" said J-Lo, getting a little perturbed.  "That might be the smallest voice we've ever heard in five cities."
A little jealous, is she?
POLL: Does beauty queen Stormi have talent — or is she just hot?
But as Tyler and Randy ogled Stormi, one contestant only had eyes for his ex-girlfriend. Ex-lovers Rob Bolin and Chelsee Oaks, both 23, had a great audition, both together and separately. However, there's one little problem -- Rob is clearly still in love with Chelsee, even though Chelsee is dating someone else.
"It sucks," Rob complained.
With the new boyfriend waiting in the wings, Lopez and Tyler urged Rob and Chelsee back together. This should get interesting during Hollywood Week!
But Rob and Chelsee both have serious competition coming their way from 15-year-old Lauren Alaina, who might be "the one," if Tyler's early prediction is right.
Lauren belted out Faith Hill's "Like We Never Loved at All" -- and in a page out of Wednesday's tear-jerker, she thanked her cousin, who survived a brain tumor, for inspiring her to sing.
"I think you should cry," Tyler told her. "Because you're going to make 40 million people cry tears of joy, baby." Later, he added, "I think we found the one today."
WATCH Steven Tyler talk about what he's looking for in Season 10. 
Lauren was a lot of fun, but we're not ready to declare her the winner just yet. We still have four months to go!
There were a few more interesting stories, like 22-year-old Adrienne Beasley, an African-American girl who was raised on a farm by her adoptive white parents, and 27-year-old Matt Dillard, whose family has taken in 700 foster children.
Jackie Wilson, 28, also had a very genuine, down-home appeal, but she provided one of the night's weirder moments when she kissed her much-older boyfriend on the lips. Wait a second – we thought that was her dad!
But the strangest contestant of the night was by far Latoya "Younique" Moore -- a 26-year-old self-proclaimed "recording artist" who showed up dressed in a bad blue prom dress. Um, if recording the sound of your voice makes you a recording artist, then yes, she's a recording artist. But she certainly was "Younique."
--Jennifer D'Angelo Friedman, PopNews Wire