American Idol: Jennifer Lopez Tears Up With Bipolar Contestant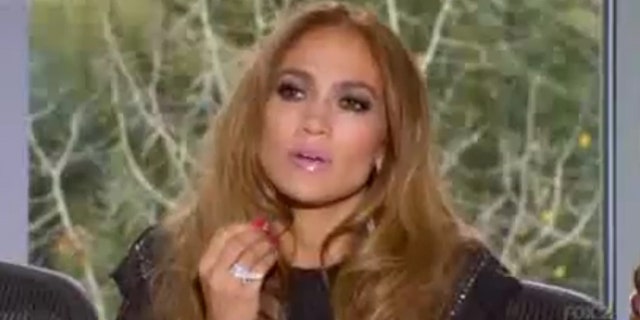 Jennifer Lopez was brought to tears after listening to a very different contestant audition Wednesday night on American Idol.
Shelby Tweten, 17, sung one of JLO's favorite tunes from American Idol winner Carrie Underwood's "Temporary Home."
"So beautiful!" Lopez said. "You brought tears to my eyes. I love that song too, but someone has to really sing it."
The Minnesota native revealed that she has been diagnosed with bipolar disorder and "has been struggling with depression since fourth grade."
"American Idol has given me a reason to stay on my meds," said Tweten. "When I'm off my meds I'm incoherent and not myself."
The aspiring singer told the judges singing is the only way her mom could control her "hypomanic episodes."
"I can't control my body," said Tweten. "My mom would tell me let's sing together and it would work."
"[Singing] gets me emotional these days," she continued. "It's made me so happy and gotten me over so much stuff."
Lopez was amazed as she turned to fellow judge music producer Randy Jackson to vent her thoughts on Tweten.
"She's awesome," Lopez told Jackson emphasizing "the rasp" in her voice. "Wow!"
American Idol's Top Ten Latino Moments
As for Tweten, she stressed the importance of the audition airing on live television.
"I want to prove that bipolar doesn't define who you are," Tweten said. "Everyone told me I couldn't do it and I was like I'm going to prove you guys wrong someday."
This isn't the first time Lopez gets emotional with a contestant.
Last season the superstar broke down as she informed Illinois native Chris Medina that he did not make the top 24 contestants.
"I just didn't want to tell him no," a sobbing J.Lo expressed. "I felt so bad."
Despite being consoled by her fellow judges Aerosmith's front man Steven Tyler and music producer Randy Jackson Lopez couldn't stop crying.
"I didn't feel like I told him in the right way," she said.
Medina, wowed the judges and viewers alike not only with his voice but with his personal story.
The Milwaukee contestant's fiancée, Juliana Ramos was in a car accident that left her with brain damage two months before they were to be married.
Since her debut as judge on American Idol last year, the Puerto Rican beauty struck a kinder tone than her predecessor in the opening of the 10th season of the hit show.
Looking stunning as ever, J.Lo accentuated the positive, an indication that producers have set a different tone.
Past audition shows, with Simon Cowell as the lead judge, seemed a procession of train wrecks.
But Lopez in particular, even hugged a contestant who cried when upon meeting her and seemed in agony the first time she rejected a contestant.
You can reach Alexandra Gratereaux at: Alexandra.Gratereaux@foxnewslatino.com or via Twitter: @GalexLatino
Follow us on twitter.com/foxnewslatino
Like us at facebook.com/foxnewslatino