Amber Riley, Derek Hough win 'Dancing with the Stars'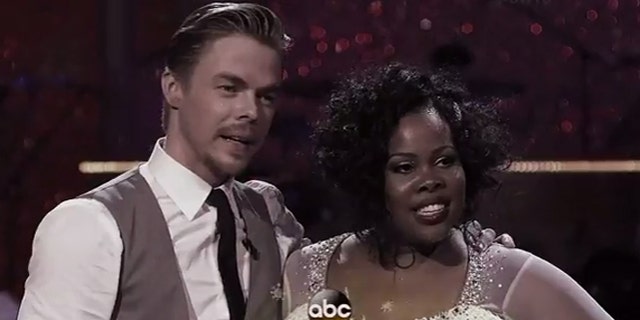 "Glee" actress and all-around good sport Amber Riley took home the mirror-ball trophy Tuesday night on the season finale of "Dancing With the Stars." Riley and her partner, Derek Hough, were the last of three contestants to complete their final dance. In response to that very fine quick step, Riley accepted a compliment from the irascible English judge Len Goodman that sounded kind of like he was comparing her to ground-up meat stuffed into sparkly turquoise spandex.
"Did Len Goodman just call Amber Riley 'My little sausage.' . . . What the heck is that!" squawked Sherri Shepherd on Twitter.
"The View" co-host has something to talk about Wednesday, as does anyone else interested in recapping the rather bizarre final episodes of Season 17. Two weeks ago, leggy actress Elizabeth Berkley — who had consistently pulled in the competition's highest scores, who could raise her foot above her head and who had been dubbed "the queen of the samba" — got voted off the show, while flat-footed comedian Bill Engvall somehow made it to the finale week. One possible explanation: The men who were impressed by Berkley's dancing skills in "Showgirls" 18 years ago failed to pick up the phones and vote for her, while their wives preferred to send on Engvall, as well as actress and former talk-show host Leah Remini.
Remini ended up leaving the following week, and Engvall was voted off Monday night. Rather than bid a teary farewell, the comedian deadpanned that "there must be a God," because he didn't think he could make it through one more dance. The last men standing for Tuesday's finale were "High School Musical" star Corbin Bleu and son-of-a-rock-star Jack Osbourne.
Bleu came to the show not long after completing his Broadway run playing Jesus in the musical "Godspell." One could say that he had an unfair advantage, but one could also say that of the three finalists, he was best dancer; he's flexible, stylish and versatile. On Monday night, he and partner Karina Smirnoff donned fedoras and stepped their way through Michael Jackson's "Smooth Criminal." (The category was "freestyle," given that the moonwalk would seem a bit out of place in the fox trot, quickstep or samba.)
In the far-exiled corner of the Internet reserved for people who care about dance, and choreographers having enough money to eat, complaints arose that the show failed to credit Vincent Paterson, Jackson's original collaborator for the song; the moves aped by Bleu were instead attributed to "This Is It" choreographer Travis Payne.
No mea culpas came Tuesday. The last night of a "Dancing With the Stars" competition is reserved for the final dances, sentimental reminiscing and bizarre couplings of ballroom dance with the best singers who have an album to hawk that the show's producers can get. The big name Tuesday was Lady Antebellum, because what costumes go better with the banjo than sparkly bras with gold tassels? Slightly more apropos was Colbie Caillat, who crooned "What a Wonderful World" while Valerie Harper, this season's token female AARP contestant, returned to waltz in slow motion.
Also reprising dances from Season 17: Nicole "Snooki" Polizzi, who told host Brooke Burke-Charvet that she "missed her boobs," and Bill Nye the Science Guy, who was injured early in the competition, returning to prove that he probably had the best split jump in the field.
The three finalists and their partners were tasked with creating a "fusion dance," melding two ballroom styles. Despite Smirnoff's best butt-shaking efforts, Bleu missed a few steps in the cha-cha. That opened the door for Osbourne, who defended his subpar performance by noting that until the night before, he thought salsa was a food. That left Riley and Hough little competition, and the judges deemed the couple's samba/quickstep a style all its own. For them, three perfect, glittery 10s.
(And Goodman's comment about the sausage, specifically: "You, my little sausage, are an absolutely fantastic dancer.")
When the results were announced, Osbourne and partner Cheryl Burke were dismissed first, leaving the two professional ballroom dancers on the podium who were there in the spring. Hough had partnered the Season 16 winner, country singer Kellie Pickler, who had gorgeous lines and perfectly pointed feet. Smirnoff had clutched the arms of that season's runner-up: Baltimore Ravens wide receiver Jacoby Jones, perhaps the best jiver the show has seen.
Seeing Bleu and Riley onstage — 20-something stars who dance at their day jobs — was anticlimactic by comparison, which doesn't mean you couldn't watch Riley hoist the mirror-ball trophy without smiling.
"I did this competition because women of all sizes need to know they can do whatever they put their minds to," she said tearfully. The best dancer in the bunch? No. But she was probably the most inspiring. And that dress? It was most certainly not a sausage casing.