Alec Baldwin thinks 'SNL' Trump character might make president 'too cuddly'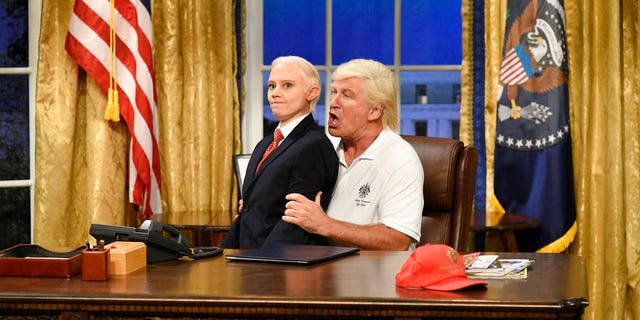 Alec Baldwin thinks his Donald Trump character on "Saturday Night Live" might make the president look "kind of too cuddly."
The actor opened up about his impersonation of Trump on Tuesday on WNYC's podcast "Here's the Thing." Baldwin asked Sen. Bernie Sanders, who was a guest on the podcast, if people will think Trump is a joke because of the actor comedic impression.
"In terms of Trump, do you think we're making him kind of too cuddly and too funny and we're taking people's mind off something really more serious?" Baldwin asked.
SNL'S PETE DAVIDSON REVEALS BORDERLINE PERSONALITY DISORDER DIAGNOSIS
Sanders replied by saying people should focus on what Trump is doing rather than the "absurd" statements he makes.
Baldwin won an Emmy for outstanding supporting actor in a comedy series for his role as Trump in more than 20 "SNL" sketches. During Baldwin's acceptance speech, he said, "At long last, Mr. President, here is your Emmy."
The 59-year-old actor reprised his role last Saturday for 43rd season premiere of "SNL," portraying Trump handling disaster relief efforts in Hurricane Maria-stricken Puerto Rico.