Adrianne Curry: Weight Gain, Baby Worries Kept Me Out of the Limelight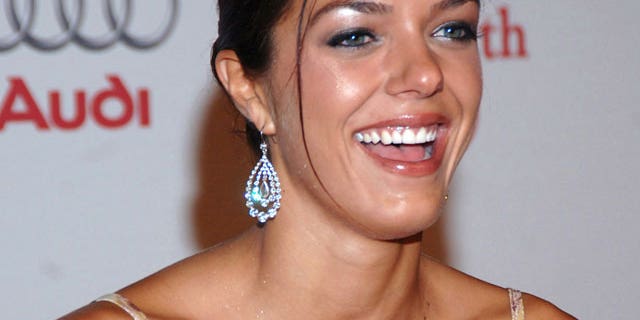 LOS ANGELES – Adrianne Curry won the first cycle of "America's Next Top Model" and graced the coveted cover of Playboy, but she too is feeling the pinch of the Global Economic Crisis in a very personal way.
"We were trying to have a baby up until the economic crisis, then all my investments blew up so I said let's make that money back then we'll try to have a baby again," Curry recently told Tarts. "My only regret is that now I've decided not to share my life (her VH1 reality show "My Fair Brady" ceased filming two years ago) people can't see that I'm mature. I've grown up oodles, people only get to see me acting like a 22-year-old on replays but I'm now 27, I'm pushing 30. The old broad had to grow up without you."
And while Curry was out in Tinseltown without hubby Christopher Knight, aka Peter Brady of "The Brady Bunch" fame, (he was just busy with a work commitment - hosting the Michigan State Lottery) she insisted their marriage is still going strong and they even ditched the dollars to keep it that way.
"We turned down a fourth season of the show; we enjoy our lives without you in it. We gained wisdom by watching other people destroy relationships so we thought it would be more important to work on 'us'," Curry explained. "Money is great, attention is swell especially when you're a Leo but my marriage is more important then any of those things so I put that first."
So why has the former party girl been hiding well away from Hollywood over the last couple of years?
"I was hiding my fat ass until I lost a bunch of weight. A few weeks ago I went in for my yearly womanly exam and I weighed in a 150.5 pounds and I crapped my pants," Curry added. "I am on a no-carb diet. So I've started eating fish, steamed vegetables, no butter, no sugar, no bread, and no fun and now I'm at 136 pounds. I'm also going to the gym, I don't believe in being thin disgusting. I like to have muscle."
But weight criticism aside, (like the fact that the average woman would look pretty darn good at 150 pounds), there are other downsides to having your fifteen minutes of fame.
"I have a restraining order in my purse over there for this one chick. She would stand in front of my house refusing to leave and then she bought a pair of $1500 Giuseppe heels in all the colors that I really love and demanded that I [take] them … so I took them straight to the police station," Curry said. "She was starting to creep me out, but I had a mace on me with a refill in my purse because if I was going to get her I was going to get her good. I would empty a whole canister then refill and do it again while she's writhing in pain."