Actors in One Broadway Show Are Breaking More Than Legs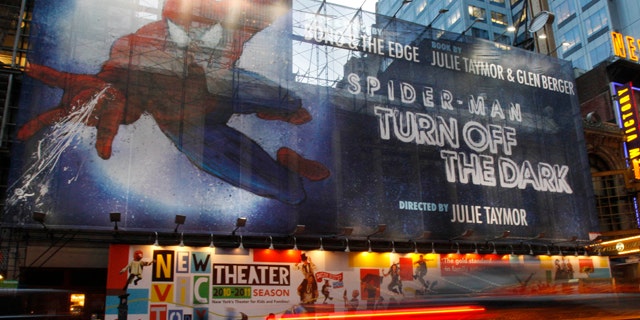 Actors in the Broadway musical "Spider-Man: Turn off the Dark" were left in the dark Wednesday night, when the New York State Department of Labor told the production crew that they could not proceed until new safety protocols were put in place.
The safety measures come two days after a stunt actor, Christopher Tierney, was hospitalized after a serious fall.
Under the new guidelines, one stagehand will attach the actors' equipment, followed by a second operator who verifies the connection was successfully fastened. The third step is verbal verification to the stage manager.
The actors have also been advised to do check their equipment and voice concerns if they feel at all unsafe during a rehearsal or performance.
Julie Taymor, from the department of labor, calls for the use of a tether or harness, in all the show's arial sequences, like the one that injured Tierney.
Show spokesman Rick Miramontez announced the show was canceled late Wednesday afternoon and said performances would resume Thursday evening.
"We have gotten assurances from the production company that this is how they plan to operate," said Maureen Cox, the labor department's director of health and safety. "If the actors don't feel safe they should make it known."
Cox called the acrobatics in the production the most complicated that she has encountered in her role at the labor department.
The investigation is ongoing and the labor department will have representatives monitoring the safety procedures during upcoming shows.
"It isn't about a human that made a mistake," said Cox. "It is about a system that didn't have a component to ensure that the result that happened, happened."
Ticketholders for the Wednesday evening's performance will be refunded.